Hi everyone! I hope you all had a good April, mine kind of disappeared in a haze of deadlines, lots of final activities for Uni, my family visiting and various other things, I actually don't quite understand how it went so quickly.
Anyway, for those of you who have started following since I last did one of these, #RockMyTBR is a challenge originally set up by Sarah K at The YA Book Traveler in 2016, where she challenged us to take a list of backlist books that we wanted to knock off our TBRs. I've kind of taken it for myself over the past two years as it's a really nice, low pressure challenge. I have 12 books on my list, so I'm aiming to have them all done by December, reading one book a month. April was pretty good for me, not as good as March, but I feel like that was kind of a fluke anyway, I read 3 books, which is pretty decent for me. Anyway, here's all the books I read in April:
Catwoman: Soulstealer by Sarah J Maas:
This was my #RockMyTBR book for April and I actually enjoyed it a lot more than I was expecting? I'm not really a comic book person and I struggled to get into Wonder Woman, so I didn't really have high hopes for this one, but I really enjoyed it, it was nice to see Sarah taking on a different world for a change, and reading a book by here that wasn't like a thousand pages long! I read this book from 28th March-11th April. Here is my review of it:
https://jjbookblog.wordpress.com/2019/04/12/catwoman-soulstealer/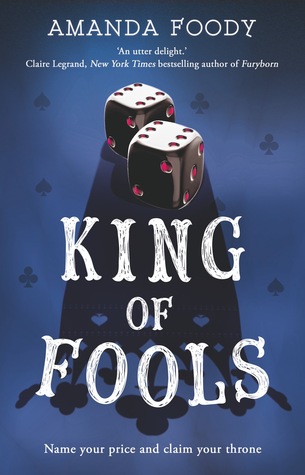 King of Fools by Amanda Foody:
This was my main Netgalley read for April, and I LOVED IT. It took everything I loved about the first book and turned it up to 11, it's so brilliantly feminist and has so many wonderful and varied women, there's amazing character development for everyone and enough twists and turns to make you dizzy! I cannot wait to read the third book now. I read this one from 4th-15th April (a 600 page book in under two weeks is very impressive for me!). Here is my review of it:
https://jjbookblog.wordpress.com/2019/05/02/king-of-fools-the-shadow-game-2-review-e-arc/
A Girl Called Shameless by Laura Steven:
I loved the first book of this duology but I feel a little bit lukewarm about this one. I still loved Izzy, but I didn't feel that this sequel was quite as funny as the first book and the plot was kind of lacklustre and slightly lagging. I read this one from 11th-21st April. Here is my review of it:
https://jjbookblog.wordpress.com/2019/04/24/a-girl-called-shameless-review-izzy-oneill-2/
So that's what I read in April, here's what I've got coming up for May:
Uprooted-Naomi Novik
My #RockMyTBR book for this month, I've heard great things about this one. I'm struggling with it a little because the chapters are so long, but I'm not all that far through yet, so I'm hoping that it will get better.
Finale-Stephanie Garber
I AM SO EXCITED FOR THIS BOOK! Only six more days to go until I finally get it. I love this series and I can't wait to see how things end for Tella and Scarlett.
We Are Blood and Thunder-Kesia Lupo
My Netgalley read for this month. Honestly I'm not really enjoying this, I'm finding it kind of boring and confusing, but it's a Netgalley book and I'm too far through it now to give up.
Romanov-Nadine Brandes
This is going to be my other Netgalley read for the month when I've finally finished We Are Blood and Thunder, and I'm so excited for this one, I really loved Fawkes and I can't wait to see what Nadine Brandes has done with the story of Anastasia Romanova!
I'm still really pleased with my reading progress through this year, I've read 18 books which is far more than I usually would have by this point in the year & I have a few weeks before I go home from Uni, so I'm planning on getting a lot of reading done in that time. I'm still 7 books ahead of my Goodreads Challenge, so that's feeling pretty good. How did your April reading go? Let me know in the comments!