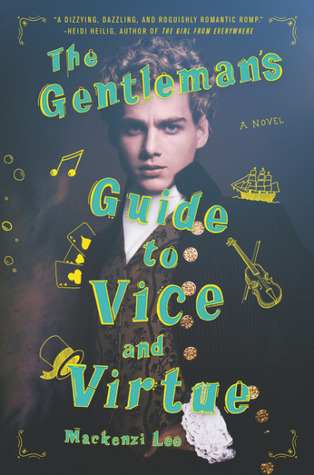 Book: The Gentleman's Guide To Vice and Virtue (Montague Sibilings #1)
Author: Mackenzi Lee
Bechdel Test: Fail-By conceit of this novel, it kind of has to fail, the narrator is a guy, his friend is also a guy and they travel with his sister, but aside from her, there are very few important female characters in this book and given that the book is narrated by Monty, he is involved in pretty much all the conversations we see her have.
This book was my #RockMyTBR challenge book for June, and I've heard so much great stuff about this book over the past couple of years that I was super excited to dive in, but also nervous in case it didn't live up to the hype for me. I'm so happy to say that wasn't the case and you can consider me fully on the bandwagon because I LOVED THIS BOOK. It was so funny, and diverse and heartbreaking but also hopeful and the characters were amazing, and I am so excited to read the sequel now BECAUSE FELICITY (but more on that later). Here is a short synopsis of the book:
Henry "Monty" Montague was born and bred to be a gentleman, but he was never one to be tamed. The finest boarding schools in England and the constant disapproval of his father haven't been able to curb any of his roguish passions—not for gambling halls, late nights spent with a bottle of spirits, or waking up in the arms of women or men.
But as Monty embarks on his Grand Tour of Europe, his quest for a life filled with pleasure and vice is in danger of coming to an end. Not only does his father expect him to take over the family's estate upon his return, but Monty is also nursing an impossible crush on his best friend and traveling companion, Percy.
Still it isn't in Monty's nature to give up. Even with his younger sister, Felicity, in tow, he vows to make this yearlong escapade one last hedonistic hurrah and flirt with Percy from Paris to Rome. But when one of Monty's reckless decisions turns their trip abroad into a harrowing manhunt that spans across Europe, it calls into question everything he knows, including his relationship with the boy he adores.
I kind of have to start this review with Monty, because he's one of the many reasons that I basically fell in love with this book from the first page. His voice is just brilliant, dry and sarcastic and cheeky and just so engaging, I loved it. Voice is such a hard thing to get right and Mackenzi Lee completely nails it. Monty is brilliant, he's a complete and utter dickhead, but he owns it and where Lee could have made him one dimensionally awful, she creates a flawed, but incredibly well rounded character. You feel for Monty, in part because he's very upfront about who he is and doesn't shy away from his less tolerable attributes, but also because Lee shows us the vulnerability beneath the surface, he's dealing with a lot, especially with regards to his father, and suffers from low self esteem and self doubt so even when you want to slap him (which is often), you still feel for him. It also helps that he's pretty charming and hilarious! He has great character development too, Felicity and Percy aren't afraid to call him on his bullshit and he does learn and grow from his mistakes over the course of their adventure.
It's not just Monty who makes this novel though, we have two other parties in our trio. We have Percy, the lovable and incredibly caring best friend, who is so sweet that like Monty, you just can't help but want to protect him. And we have my personal favourite, Felicity, Monty's smart and brilliant younger sister. She's basically the mother hen of the group, grumpy and disapproving, but secretly enjoying her brother's antics, and she's also incredibly funny (she has the best one liners in the entire book, including an incredible period joke which had me chuckling long after I read it. She's also the only one of the three of them who actually gets shit done, without her Monty and Percy wouldn't have made it to Barcelona, let alone the end of their trip! She is done with the 18th century sexism and is determined to make use of her medical skills, acquired by covertly reading medical textbooks. I'm so excited to see Felicity take centre stage in her own adventure!
The three of them make such a brilliant team, Monty gets them into all the trouble and Percy and Felicity (mostly Felicity) have to help solve all the dangerous situations Monty lands them in. They have such a great group dynamic as well, Monty and Felicity are the bickering siblings, Monty and Percy are clearly in love but won't admit it and Felicity and Percy basically bond over eyerolling at all Monty's stupid decisions. I really loved Monty and Felicity's sibling dynamic, it felt very authentic, they argue a lot but ultimately love each other and always have each other's backs and it was so lovely to see Monty's respect for his little sister grow through the book.
There is so much diverse representation in this book, which is awesome! I love seeing historical fiction becoming more diverse, because history wasn't full of white, straight people and it's amazing to see historical novels starting to reflect that. The entire main trio is LGTBQ+ (Monty is bi, Percy is gay and Felicity is aroace, though that is only hinted at here, it's confirmed in Lady's Guide apparently). Percy is also biracial, and epileptic and Monty pretty clearly suffers from depression and PTSD.
I loved that Percy's epilepsy wasn't resolved with a magical cure, it seemed like that was where this book was going, but Lee definitely came through and Percy is seen to be happy and comfortable with his epilepsy as part of his life, rather than something that needs "fixing".
It was also really nice to read about 18th century history rather than 20th century for a change, I feel like YA historical fiction can so often be saturated with 20th century stories, so it's nice when I get to read books outside that time period. Lee definitely doesn't shy away from dealing with the less palatable aspects of the period, homophobia, racism and sexism are all explored in the book but in a very natural way that never feels preachy and Monty is called out on his white, male privilege multiple times. I will say that the time period could have done with a little clarification, this is probably a nerdy history student thing, but I would have liked to know exactly what part of the 18th century the events were happening in!
I'd never heard of The Grand Tour before reading this book, so it was really cool to learn more about a part of history I wasn't all that familiar with.
I also thought in places, the setting could have used being described slightly better? I felt this was mostly an issue in Barcelona & Marseilles, the author does a pretty decent job of painting a picture of 18th century Paris, Venice & Santorini.
The book is also really well paced, there's a lot of great drama and shenanigans throughout the trio's adventure but also lots of smaller, quieter moments as well. There's a particularly great scene with Monty and Felicity discussing their sexualities and though they don't have our twenty first century language to describe their identities, it's a beautiful thing to see in a historical novel. I will say that some of the chapters felt overly long, but for the most part, the 500+ pages of this book definitely don't drag. My only quibble with the pacing was that I felt the climax was slightly rushed, I had to read back over parts of Chapter 29 because I kind of missed what was going on.
I really enjoyed Lee's writing style, she manages to write in a way that both fits the time period and is appealing to a contemporary reader, which is no mean feat and she particularly excels with dialogue and humour, which pleased me immensely because those are always my favourite aspects of a book. You can also clearly tell that she knows her stuff when it comes to history, and she doesn't describe all European countries as a monolith, which can be an issue when it comes to American authors writing Europe.
The balance between humour and heartbreak is straddled really well, there are definitely more serious aspects to this novel (content warnings for homophobia, abuse, alcoholism, PTSD, racism, ableism, epilepsy) and it definitely takes some dark turns, but this is all very well balanced with the more light, humourous, adventurous events in the novel.
I really loved the pirates and I wished we could have seen more of them, not just because I love pirates, but because I really liked the burgeoning, almost father/son relationship that Monty and Scipio developed and I would have loved to see more of it.
Percy and Monty's romance is brilliant, there is a ridiculous amount of romantic and sexual tension through the book and so much flirty banter, but of course, they're both morons who can't see that they're both equally as besotted with each other! It has such a beautiful payoff though, the final scene was just EVERYTHING and I loved Monty's letter to his dad at the end. It takes a lot of getting there, but don't worry, there is no #buryyourgays here. I also loved that all sexual activity in this book, even kissing, happened WITH CONSENT. It's so important to show teens what consent looks like and that definitely happens here.
Overall, I really loved this book. it had everything I love, bickering siblings, a great LGBTQ+ romance, an adventure filled with pirates and highwaymen and alchemy, tons of humour, a brilliant voice and an incredibly badass woman! I wish I already had the second book to read right now!
My Rating: 5/5
My next review will be of the latest Skulduggery Pleasant book, Bedlam, by Derek Landy (also coincidentally, will be the only book by a male author that I've read so far this year).