Hi everyone! If you are new to the blog in the past month or so, this is a regular monthly feature where I take a book and it's movie adaptation, and answer the age old question, which is better, the book or the movie. This week, I'm actually talking a TV adaptation, and talking about Caroline Kepnes' novel You, and it's Netflix adaptation.
Book Thoughts:
I actually read the audiobook after having already seen the TV show, so I wasn't coming into this book completely fresh. I did like You, but the writing wasn't really for me, & although I found the plot interesting, it got somewhat repetitive and bloated at points. The narration by Santino Fontana was definitely my favourite part of this book, they definitely could not have chosen a better narrator for this. I actually did a review of this one, so if you are more interested in my detailed thoughts, you can find them here:
https://jjbookblog.wordpress.com/2019/08/19/you-review-audiobook/
TV thoughts: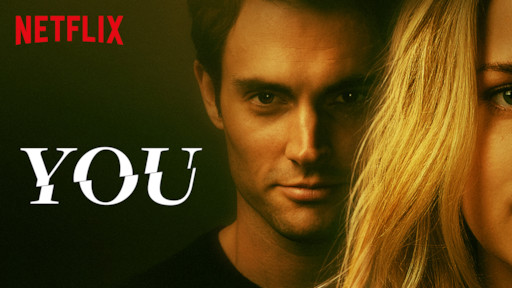 Like I said, I watched the TV show first for this one, and I'm glad I did it that way, because honestly if I hadn't watched the TV show, I probably wouldn't have read the book since it's not the kind of thing I usually go for. I actually liked the TV show better for this one, it took all the things I liked about the book, the creepy narration, the twisted characters, but it also trimmed some of the fat from the plot so it was far tighter paced than the book, which I appreciated. I also thought it was really well cast, the two leads were great in their roles and there was a good supporting cast as well.
TV or Book Judgement:
TV for this one! I liked the book well enough, but I felt like I enjoyed the story much more on the screen and I think it definitely helped that they trimmed some of the excess story from the book, for a thriller, I definitely found the TV show more thrilling than the book.
So that's it for this month's Book Vs Movie (well TV), I'll be back next month with all of my incredibly salty thoughts on the Percy Jackson movie, so I definitely wouldn't miss that one! In the meantime, I will have my latest Quarterly Rewind post up on Monday, so stay tuned for that.