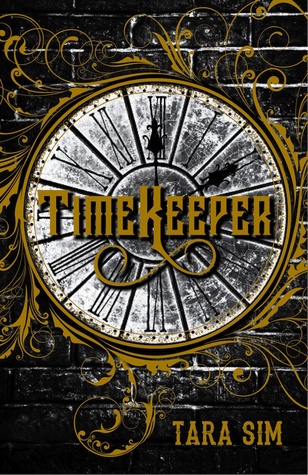 Book: Timekeeper
Author: Tara Sim
Published by: Sky Pony Press
Expected Publication: 8th November
Format: e-book
I received this book for free via Netgalley, this in no way affected my opinion of the book.
As always, thank you to Netgalley and Sky Pony Press for allowing me to read this book, it was one that I was really looking forward to, so getting to read it early was great!
The premise behind this one was really awesome, essentially it's an alternate Victorian world that is powered by clock towers and the book's plot centres around seventeen year old clock mechanic Danny trying to work out who is behind a series of mysterious clock tower bombings, whilst dealing with his confusing and forbidden feelings for the clock spirit in the tower in Enfield which has been assigned to repair (that's not the greatest synopsis I know, but trust me , the book is great!).
I loved the world building of this book, Tara Sim has truly thought of every single implication that having mechanized clock towers would have on her Victorian London and I loved the level of detail with the clock spirits and the mythology behind the way the clocks worked and everything, I thought all of that was really well done and I really enjoyed it.
I loved the characters as well, Cassie in particular was amazing, I loved that she was this awesome mechanic who wouldn't take shit from anyone, is extremely loyal to her friend Danny and is just such a fun character. I loved her relationship with Danny, it kind of reminded me of my friendships with my friends, they have a great back and forth, are slightly mocking towards each other but you ultimately know that they have each others' backs. It was really refreshing to see a boy/girl friendship where they are just good friends and there's no romantic connection whatsoever. I just wish more authors could do this with straight female and male characters and that it doesn't just have to happen when one of the main characters is gay. I also really liked Danny, he was this gruff, intelligent, stubborn, incredibly complex characters and I really enjoyed seeing him grow throughout the book. I also liked seeing his PTSD as that's something that is not often dealt with in YA books and it was dealt with so well. Colton was just adorable, I loved how naïve he was and how excited he got about regular human things. I was really interested in Daphne too, how she was a female working in a male dominated field and how she initially seems like an antagonist but she's so much more complex than just token bad girl. I really look forward to seeing how all of these characters are explored in the sequel to this book, especially Cassie and Daphne as those two really intrigued me.
I really liked the relationship between Danny and Colton,  it was really sweet without needing to be sexy and it was developed so well, starts as a crush and turns into something more, rather than insta-love and it just felt so genuine and lovely, I really enjoyed watching these characters blossom together (I especially loved their dance!). It was also nice that Danny was already comfortable with his sexuality as I have read quite a few books with gay couples where their main storyline revolves around coming out, it was nice to see Danny so comfortable with his sexuality. The romance was so well woven into the story, it shows that LGBT romance doesn't necessarily have to be a separate genre of book and that you can easily have a great fantasy novel with an LGBT romance that is not necessarily the entire focus of the plot.
The plot was a little slow to start off with, mainly focused on the world building and the budding romance between Danny and Colton but once it picked it up, I thought it had a really nice pace to it, the mystery about who was bombing the clock towers was intriguing and I actually didn't see the culprit's identity coming (although maybe I should have as all the pieces did point towards him) and I liked that the bad guy wasn't obviously bad, he was flawed and morally complex and I like that in antagonists.
I also thought the dynamic between Danny and his mum was very interesting and I liked seeing it develop, it will be interesting to see how this continues in the next book after what happened in the conclusion of this one.
There were of course some uncorrected proof errors, as to be expected, but I really liked Tara Sim's writing style, it was engaging and pretty and she writes about time in such a way that it felt like another character in this book which I really loved. She creates such a beautiful picture of her alternate London that you cannot help but fall in love wit it.
I did think the little snippets of the world's mythology that we got throughout the book seemed kind of out of place, I understood more why they were there at the end but they still felt slightly jarring and I'm not sure I would have really missed anything if they weren't there.
I appreciated the author's  note at the end as there are obviously a lot of changes from the historically accurate Victorian London and I appreciated how she explain these within the context of the clock towers and the world that she created in Timekeeper.
I also really liked that everything was quite neatly wrapped up in the end, but there's so much scope within the world Sim has created that she will be able to explore different stories in the next two books. There are lots of characters whose stories I would like explored more (Cassie, Daphne, Brandon) as well as seeing more of Danny and Colton of course, so I can't wait to see where the rest of the series goes from here!
Overall, this was a great book, with great world building, great characters and a lovely slow burn romance and interesting relationships developing between all of the characters. I will definitely be reading the sequel to this book!
My Rating: 4/5
I don't know what my next review will be (since this is a pre-scheduled review) but you guys will probably find out soon enough!