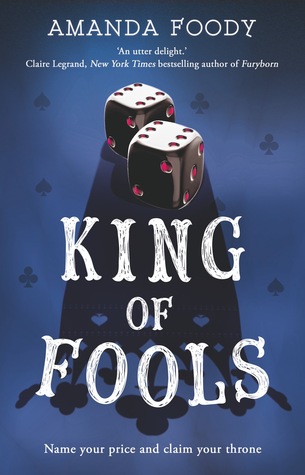 Book: King of Fools (The Shadow Game #2)
Author: Amanda Foody
Published By: HQ Young Adult
Expected Publication: 2nd May (yes, it releases today!)
Format: e-book
Bechdel Test: Pass-Enne, Grace and Lola have multiple discussions which are not about men, about their gang, The Spirits.
I received this book from HQ Young Adult, through Netgalley UK, in exchange for an honest review.
As always, thank you so much to HQ Young Adult and Netgalley for allowing me to read this book early, this was a massively anticipated release for me this year, so getting the chance to read it early was amazing.
I really enjoyed Ace of Shades when I read it last year, and after the cliffhanger at the end of it, I was super excited to get to King of Fools. I'm happy to say that I really loved this book, even more than Ace of Shades. The stakes are higher, everything moves a lot faster, I was more familiar with the world and there are so many awesome new characters introduced. Amanda Foody definitely struck me in the feels with this book and the ending really made me wish that I had the third book to read, like right now! Here is a short synopsis of the book:
Indulge your vices in the City of Sin, where a sinister street war is brewing and fame is the deadliest killer of them all…
On the quest to find her missing mother, prim and proper Enne Salta became reluctant allies with Levi Glaisyer, the city's most famous con man. Saving his life in the Shadow Game forced Enne to assume the identity of Seance, a mysterious underworld figure. Now, with the Chancellor of the Republic dead and bounties on both their heads, she and Levi must play a dangerous game of crime and politics…with the very fate of New Reynes at stake.
Thirsting for his freedom and the chance to build an empire, Levi enters an unlikely partnership with Vianca Augustine's estranged son. Meanwhile, Enne remains trapped by the mafia donna's binding oath, playing the roles of both darling lady and cunning street lord, unsure which side of herself reflects the truth.
As Enne and Levi walk a path of unimaginable wealth and opportunity, new relationships and deadly secrets could quickly lead them into ruin. And when unforeseen players enter the game, they must each make an impossible choice: To sacrifice everything they've earned in order to survive…
Or die as legends. 
We get a map at the beginning of this book which I loved, as a massive fantasy nerd, there's nothing that I love more than a map, although since it was an e-arc, I couldn't flip back and refer to it as I would in a physical book, but that didn't really matter, it was just nice that it was there.
I really love Amanda Foody's writing and I would definitely say I think it has improved since Ace of Shades, not that her writing in Ace of Shades was bad, it was really good, but in this book it was even better, I could pick out more than a dozen different lines that I really loved, especially the opening line of the book, it really drew me back into the City of Sin. Much as with the first book, Amanda Foody is amazing at writing setting and atmosphere and every time I opened the book, I felt completely immersed in the City of Sin. I also really loved how funny this book was? I don't remember the last book having quite so many funny quips, but this one was chock full of them, I laughed out loud so many times which was great. I think it's so important for dark books to have a bit of levity in them and Amanda Foody definitely achieved that balance.
We get even more expansion of the world in this book, lots of amazing new locations and we get to see the South Side for the first time which is pretty awesome because you really get the contrast between the North and South Sides. I felt like this book really expanded the scope of the world, which I loved.
Enne is 100% my favourite character in this book. She has grown so much from who she was initially in Ace of Shades and she goes through even more development in this book. She is so wonderfully unapologetic about who she is, she doesn't feel like she needs to become more masculine to become a street lord, she will wear her lipstick and her heels and her pearls and also wield a revolver and that is wonderful. This book is so wonderfully feminist, there's brilliant exploration of women and their relationship to power, and the parallels between Enne and Vianca are done so beautifully.
I also love how there are so many different depictions of women in this book. Not a single one of them is the same, they all have their own quirks and personalities and flaws and they're just so wonderfully three dimensional and I WOULD DIE FOR THESE GIRLS, I SWEAR. Enne's girl gang was without a doubt my favourite part of the book, they're just hanging out in PJs and doing face masks with their cats who are all named after MURDERERS and it's so brilliant. Also I can't remember which female character it was, but one of the girls in the book had a dress with POCKETS and it is now canon that all New Reynes women wear dresses with pockets. I don't make the rules. The fact that there are so many female friendships in this book and that they all support each other and there's no girls hating on other girls for no reason made my heart so happy!
Levi kind of infuriated me in this book, but I think that was kind of the point. He's basically a bit of a disaster and he's so desperate to create his legend that he makes a lot of mistakes but honestly as much as it infuriated me, it did make me love him more. In the last book I didn't feel like I got a great idea of who he was, after this book I feel like I understand him more and the fact that he made so many mistakes and was often selfish made him feel a lot more human to me. This book definitely embraced Levi's flaws!
Jac gets his own POV in this book, and I was living for that! He goes through so much character development, he's finally embracing who he is and that he doesn't want to be a sidekick anymore, he wants the chance to create his own legend (legends being a big theme in this book). I loved his friendship with Lola, and his relationship with Sophia was wonderful. Jac's story and his character development were definitely one of my favourite parts of this book.
Speaking of Lola, I love her so much! She basically disguises the fact that she's a soft puppy with knives and in actuality, she's a rule abider who won't even jaywalk and wants her own library. I really hope Lola gets a POV in the next book, I think her POV would be so fun to read.
We get a lot of new characters in this book, which can sometimes be confusing, but Amanda Foody introduced them all so well and they're such different people that it's pretty easy to keep them straight. I think Grace was my favourite, she's basically this murderous accountant who loves romance novels. There's also Tock who has the talent of explosives and Sophia, who I can't really talk too much about without getting into spoilers.
Levi and Enne's relationship can get kind of frustrating at points in this book, there's a lot of misunderstandings and secrets and well angst. Neither of them are really in a great place to be with each other at the moment, yet they are inextricably tangled together. I do think they will probably end up together in the end, but it was kind of frustrating to watch them interact in this one because a lot of the problems in their relationship are based on poor communication, though I suppose that it is quite realistic for a teen relationship! I'm kind of conflicted, because I didn't love all the angst, but they do have really great chemistry and Amanda Foody writes such a great (and infuriating) slow burn. I'll be interested to see how they work things out in the next book because I'm not really sure where they can go after the events of this book.
One of the big qualms I had with the first book was that the chapters were often very lengthy and the pacing wasn't great. I'm happy to say that I didn't have the same problems with this book, the chapters were a decent length but not overly long and the pacing was better, in fact I would say that sometimes this book had the opposite problem, in that it skipped through time a little too quickly. Unlike the first book which covered just a few days, this book is set over a few months and we would skip forward in time quite often, which I did occasionally find confusing.
The plot in this book was brilliant! It's so twisty and complex but also action packed and just generally so much fun. The buildup is to the New Reynes elections and it was quite interesting to get to explore some of the politics of this world, it really added to the worldbuilding. There is A LOT happening, but credit where credit is due, Amanda Foody handles all these different storylines with ease and it's pretty simple to keep track of each character's arc. I can't really talk too much about the plot without major spoilers, but for a 600 page book, I never felt that it lagged. There are some AMAZING plot twists and the last quarter or so of the book, I could barely catch my breath with everything that was happening. This book is such a step up in terms of plot from Ace of Shades, I can't even.
The representation in Ace of Shades was really good and that continues here. Obviously we have Levi, who is black and bisexual, we also have Narinder, the bar owner from the last book who is gay, we have Tock and Lola who are both lesbians.
I loved how each section had a divider with a different legend from the North Side, it really added to the world building and fitted so well with a lot of the book being about creating your own legend. The sections were all based around cards so it goes up from 2 through to Ace, which was a pretty cool little touch.
I mentioned in my review of Ace of Shades how much I loved Vianca and the same is true here, she's a brilliantly drawn woman and Foody uses her to explore a lot of how women can respond to being in a male dominated world, like I said earlier, it's an interesting comparison drawn between her and Enne, Vianca who tries to make herself more masculine in order to get ahead in a male dominated world and Enne who unapolagetically embraces her femininity and uses them to her advantage. We also get to see her son, Harrison Augustine in this book and it's quite interesting to see the similarities between the two of them, though I kind of wish we'd got to see them interact more.
There are so many awesome plot twists in this book as well, I wish I could talk about them more, but a lot of stuff happens that I didn't expect and Amanda Foody pulls it all off so well and I really wish I could talk about them and not be spoilery-if anyone has read this and wants to have a spoilery chat via Twitter DM, I am open to that!
There were some small uncorrected proof errors, but nothing major and I'm sure they will have been corrected in the final copy of the book.
Once again, Foody hits it out of the park with the ending, pretty much everything is turned on it's head in this book, the stakes are so high and that END? I need to know what happens next, 2020 is too far away!
As you can tell by my incoherent rambling, this book was AMAZING. So much happens, the stakes are raised through the roof, the characters go through so much development, the writing was great, I just loved everything about this book. I said in my review of Ace of Shades that I thought Amanda Foody had created a very ambitious world and she just didn't manage to fit everything in that she needed to in the last book, but in this book, the plot and the stakes matched the ambition of the world so wonderfully!
My Rating: 5/5
My next review will either be of Naomi Novik's Uprooted or Kesia Lupo's We Are Blood and Thunder, depending on which one I finish first.
Also if you are wanting more Shadow Game content, I'm going to be on the UK King of Fools blog tour, doing a Q&A with Amanda, that will be going live on Tuesday, so keep an eye out for that.