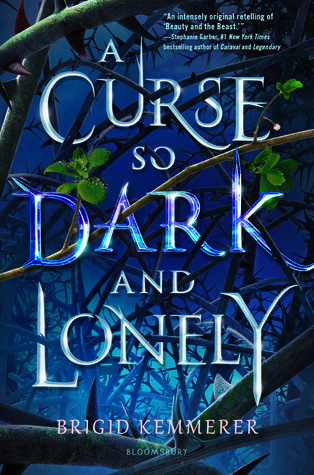 Book: A Curse So Dark and Lonely  (A Curse So Dark and Lonely #1)
Author: Brigid Kemmerer
Published By: Bloomsbury
Expected Publication: 29th January (sorry!)
Format: e-book
Bechdel Test: Pass-Harper and Freya talk about their female relatives.
I received this book from Bloomsbury UK through Netgalley, in exchange for an honest review.
As always, thank you to Bloomsbury and Netgalley for allowing me to read this book early, I was really excited to read this one, so it was great to get to read it early.
I was really excited to read this book, I love Beauty and The Beast retellings and I was really interested in this one because it sounded like such a different take on the traditional story. Sadly however, it fell kind of flat for me. It was a kind of weird contemporary/fantasy mix, but there wasn't enough in the real world to make it contemporary and I would argue that Emberfall didn't really come across as fantastical enough for me to make it fantasy, so in the end neither the real world aspect, nor Emberfall worked well for me. I did however love the inclusion of a disabled main character in a fantasy novel as I've seen so few of them and I did enjoy the characters, so it wasn't a total loss, it just wasn't as brilliant as the hype had led me to believe. Here is a short synopsis of the book:
Fall in love, break the curse.
It once seemed so easy to Prince Rhen, the heir to Emberfall. Cursed by a powerful enchantress to repeat the autumn of his eighteenth year over and over, he knew he could be saved if a girl fell for him. But that was before he learned that at the end of each autumn, he would turn into a vicious beast hell-bent on destruction. That was before he destroyed his castle, his family, and every last shred of hope.
Nothing has ever been easy for Harper Lacy. With her father long gone, her mother dying, and her brother barely holding their family together while constantly underestimating her because of her cerebral palsy, she learned to be tough enough to survive. But when she tries to save someone else on the streets of Washington, DC, she's instead somehow sucked into Rhen's cursed world.
Break the curse, save the kingdom.
A prince? A monster? A curse? Harper doesn't know where she is or what to believe. But as she spends time with Rhen in this enchanted land, she begins to understand what's at stake. And as Rhen realizes Harper is not just another girl to charm, his hope comes flooding back. But powerful forces are standing against Emberfall . . . and it will take more than a broken curse to save Harper, Rhen, and his people from utter ruin. 
I'll start with the positives, I really liked the writing in this one. It opened with a killer first line, which I always appreciate and it was descriptive without being overly flowery which was great. I also really enjoyed two of the three main characters, Harper and Grey. Harper is this great, fierce, feisty girl who is keen to learn about archery and swordplay and everything else in this new land she's ended up in. Grey is your classic, tough on the outside, soft on the inside guardsman who takes Harper under his wing. The two of them really made the story for me, because a lot of the other characters fell kind of flat for me. It was also so cool to get to see a disabled heroine at the heart of a fantasy story, although I can't speak to how good the representation was, given that I do not have cerebral palsy myself. I really loved that Harper loved horses as well, it's an automatic connection between me and a fictional character if they love horses! I loved that she had realistic curly hair as well that got tangled and messy, because you rarely ever see that.
Rhen in particular felt a little flat to me, I couldn't really get too much of a handle on who he was as a person and he wasn't all that compelling as a hero of the story, plus in comparison to Harper and Grey, he just seems even blander. It's very difficult to feel invested in a relationship when you find one half of the couple incredibly dull to read about! Lilith as the enchantress also came across as kind of a flat villain, she could have used further development I think.
The chapters started out nice and short and I originally thought the pacing of this book was going to be great, but then they get slowly ever more meandering and the whole middle of book just lagged for me, which meant we had a very fast beginning, a lagging middle and a too quick ending, all of which meant the pacing was incredibly uneven. I also think that this book was about a hundred odd pages longer than it really needed to be, 496 pages is quite a lot especially when the pacing is so uneven. I didn't really get the point of the one line chapters from the monster's POV either.
I didn't feel much chemistry between Harper and Rhen, it felt like that was being forced to get to the ending that the author wanted, Harper and Grey felt like they had more natural chemistry, although I wouldn't necessarily say I wanted them to have a romance either, I liked them as friends. The one scene I did feel like they had chemistry in was when he was teaching her archery, but I think I liked that more for the Princess Diaries 2 vibes than anything else.
The issue with Beauty and The Beast retellings that all authors have to get over is that the whole story is based on kidnapping. This book kind of gets over that by having it so that Harper is accidentally dragged into Emberfall whilst trying to protect a girl from being kidnapped, but that doesn't really change the fact that abducting girls is at the heart of the story which you know, isn't great.
I feel like a fantasy story needs a lot more worldbuilding, we get the basics on how the curse came about, but we don't really learn much about how Emberfall as a society functions, how magic works, anything like that and it's not really made all that clear how the modern world connects to Emberfall, so it's kind of confusing to follow, especially when the two worlds collide at the end of the book. I also wish we'd known more about Harper's life before going to Emberfall, as we barely get to see it and kind of have to take her closeness to her family on her own word.
I did like the diversity in the book, Harper has cerebral palsy, her brother is gay and his boyfriend is a POC, so it was nice to see all that represented in this book.
Without giving away too many spoilers, the ending of the book was incredibly confusing for me. It was so rushed that honestly I have no idea how it ended up at the point it did but honestly I was past the point of caring because at that point the story had dragged so much that I just wanted it to be over.
Overall, this was a different take on a Beauty and The Beast retelling, which I appreciated, it just didn't really work for me and I don't think I'll be reading the sequel next year.
My Rating: 3/5
My next review will be of my March #RockMyTBR book, To Kill A Kingdom, by Alexandra Christo, which I am LOVING so far.