Hi everyone! I hope you've all had a good week since I last did one of these. I got my Uni results last week and I'll be graduating next week with a 2:1, which, for those of my readers outside of the UK, is really good! I also went to a HarperCollins blogger event last night which was really fun, I'm hoping now that I'm back home for the foreseeable future I might be able to get to a few more of these and meet more lovely UK bloggers.
Anyway, as it's Tuesday, I have another Top Ten Tuesday for you all, courtesy of Jana over at That Artsy Reader Girl. This week we're talking about our Most Anticipated Releases For The Second Half of The Year. I can't believe it's already time for this list and I've only actually read five of the books on my first half of the year list! Oh well, let's hope I have more luck with these ones (I'm doing this in order of release date rather than level of excitement):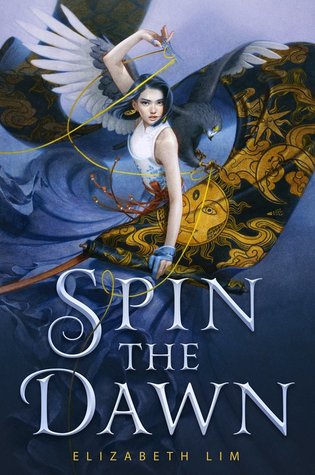 Spin The Dawn-Elizabeth Lim-Releases 9th July
I'm so excited that there have been so many more releases by Asian authors coming out this year, it's great to see. This book sounds really cool as well, a girl in a tailoring competition to become imperial tailor but in order to enter she has to disguise herself as a boy. It's been pitched as Mulan meets Project Runway and that combination sounds just strange enough to work!
2. We Hunt The Flame-Hafsah Faizal-8th August
We Hunt The Flame came out in the US last month, but it's finally making it to the UK in August. I actually have an e-ARC of this, so I don't have to wait till then, but I'm really excited to read it anyway. it's inspired by Arabian Nights which is super cool and I've heard pretty good things so far.
3. Tunnel Of Bones (Cassidy Blake #2)-Victoria Schwab-Releases 5th September
Now leaving aside the fact that I haven't actually read City of Ghosts yet (I will!), I'm still really excited for a new Victoria Schwab book. This one is set in PARIS and involves the Catacombs, which just sounds amazing and gives me even more incentive to try and read City of Ghosts soon (I think I will in September or October).
4. The Tyrant's Tomb (Trials of Apollo #4)-Rick Riordan-Releases 1st October
Okay real talk, I think I'm kind of growing out of Rick Riordan's books? It's sad but considering they are intended for an audience a decade younger than me, not entirely surprising! I haven't enjoyed this series as much as his others, but I'm so close to the end, and Rick Riordan has meant a lot to me over the past nine years, so I'd like to finish out this series and hopefully end on a high.
5. Ninth House-Leigh Bardugo-Releases 1st October
I'M SO EXCITED FOR THIS. A college set book with hints of fantasy? YES PLEASE. Honestly this is the kind of book that I've been waiting for and I'm super excited to dive into Alex's adventures in occult Yale secret societies!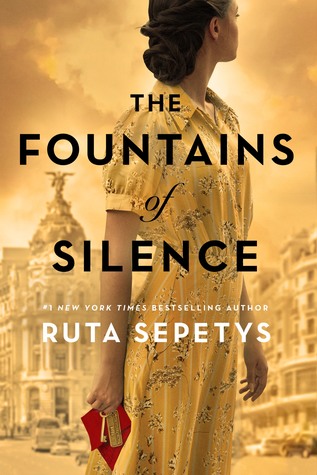 6. The Fountains of Silence-Ruta Sepetys-Releases 1st October
Another historical fiction from Ruta Sepetys, I'm so excited! This one is set in the dictatorship of General Franco, twenty years after the Spanish Civil War, another piece of history that barely gets looked at in historical fiction and I'm excited to see how Sepetys takes it on.
7. The World of Throne of Glass-Sarah J Maas-Releases 3rd October (maybe?)
I'll be honest, I don't actually know if this one is coming out this year or not, but it says that it is on Goodreads and Amazon, so I'm going with it. I wasn't initially that excited about this, since it sounded like just a boring encyclopaedia of the Throne of Glass world, but apparently it is also going to show what the characters are up to following the end of Throne of Glass, so count me in.
8. Into The Crooked Place-Alexandra Christo-Releases 8th October
I loved Alexandra's debut To Kill A Kingdom, so I'm super excited for her next book. A group of thieves who accidentally plunge their world into a war and have to fight to save it, but they don't even know if they can trust each other? YES PLEASE.
9. A Kingdom For A Stage (For A Muse of Fire #2)-Heidi Heilig-Releases 8th October
For A Muse of Fire ended in a really exciting place, so I can't want to read more of Jetta's adventures in this book as she deals with the fallout of what happened in the last book and it sounds as if this one is going to be even more exciting-I am ready for it!
10. Call Dawn The Hawk (The Dreamer Trilogy #1)-Maggie Stiefvater-Releases 5th November
AGHH! I have been anticipating this book since The Raven Cycle finished three years ago and I can't believe it's finally almost here! I'm so excited to see what Ronan has been up to since the end of The Raven King, and hopefully some of our Raven Cycle faves might appear in this trilogy too.
So there we go, my most anticipated releases for the second half of 2019! Are you excited for any of these? What are you most anticipated releases for the next six months? Let me know in the comments!
That's all for this week! Next week we're talking about our Summer TBRs, but as you may have noticed from the top of this post, my graduation is next Tuesday! I will still be doing the post, but it will be pre-scheduled and I won't be doing my usual round of comments, nor replying to comments on here, I'm sure you guys can understand! In the meantime, I will have a recap of the HarperCollins event I went to up at some point this week, and also my Spring Quarterly Rewind on Friday, so stay tuned for those.