Hi everyone! I'm really excited for this week's Book Vs Movie, I'm talking about one of my favourite books, a classic of my childhood: Matilda (yes I realise that Roald Dahl was racist, anti-semitic and misogynistic, apparently becoming an adult is basically realising that all the authors you loved as a kid either are or were trash human beings). Still, young me would not be the same reader I am today without Matilda, so I guess I just love the book whilst still accepting that Roald Dahl wasn't a great person.
Book Thoughts:
This book meant so much to me as a kid, it was probably the first time I ever felt really "seen" by a book. I wasn't like Matilda, devouring Dickens and Hemingway at 5, and my parents weren't abusive like the Wormwoods, but I could definitely understand Matilda's love of adventuring through her books and her feeling of being seen and feeling less alone through reading. Miss Trunchbull is one of the first book villains I remember being truly terrified of, way before Voldemort or Umbridge!
Movie Thoughts: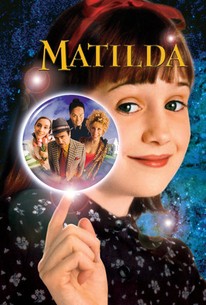 I did like the movie, but there's a lot of things that they diverge from the book that I didn't love. I didn't love that they Americanized it, that they made her telekinetic powers into some kind of superhero like thing and she didn't have to work as hard to control them and the humour of the book isn't really evident in the movie. It's not a bad film by any means, I did enjoy it and it does largely stay true to the book, with some small exceptions.
Movie or Book Judgement:
Book! The movie is good, and it's cast well, but nothing can really top the book of Matilda for me, as one of my childhood favourites.
That's it for this month's Book Vs Movie, I'll be back next month, talking about teen classic, The Princess Diaries.