Hi everyone! I hope you've all had a good May, mine honestly seemed to pass in a blur, what with finishing up at Uni, packing to come home and visiting friends, I genuinely don't know how it came and went so quickly.
Anyway, for those of you who are new to the blog and haven't seen me do one of these before, #RockMyTBR is a challenge started by Sarah K at the YA Book Traveler and I've kind of borrowed it for myself over the past few years, because it's a nice, low pressure challenge, you basically just pick a list of backlist books from your TBR that you want to read and you read them over the course of a year. I always do 12, one for each month of the year. May was a good reading month in terms of quantity, I read 4 books this month, though none of them were new favourites. Here's all the books I read in May:
We Are Blood and Thunder by Kesia Lupo:
This was one of my Netgalley reads for this month and it was….yeah not great. I'd heard a lot of really great stuff about it before I started reading it, and I just found it so underwhelming. The plot was confusing, the characters were bland and I just generally didn't enjoy reading it. I read this book from 3rd April-8th May (dipping in and out quite inconsistently). Here is my review of it:
https://jjbookblog.wordpress.com/2019/05/09/we-are-blood-and-thunder-review-e-arc/
Uprooted by Naomi Novik:
This was my #RockMyTBR book for May and again I found it kind of underwhelming. I'm not sure this style of book is really for me anyway, the prose was way too dense, the plot was extremely confusing and I could not get on board with the age inappropriate romance. I read this one from 30th April-16th May. Here is my review of it:
https://jjbookblog.wordpress.com/2019/05/17/uprooted-review/
Romanov by Nadine Brandes:
This was my other Netgalley read for the month, and one of my most anticipated releases of the year. I did enjoy it, but not quite as much as I was expecting to, it was quite slow and took a while to get into and it wasn't quite as fantastical as I was hoping. Still I did love the main character and when the book was exciting, it was really exciting! I read this one from 9th-26th May. Here is my review of it:
https://jjbookblog.wordpress.com/2019/05/29/romanov-review-e-arc/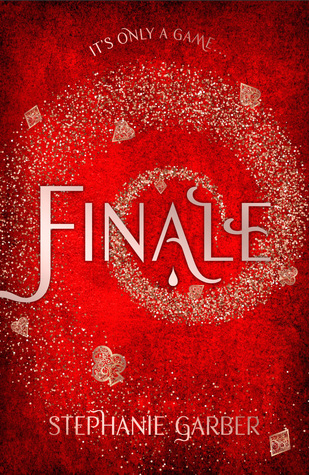 Finale by Stephanie Garber:
The third and final book in the Caraval trilogy was another one of my most anticipated reads for this year and again I was kind of disappointed. The plot was weak and slightly confused and there was far too much emphasis on the romantic drama rather than continuing with the more exciting plot threads that were introduced in Legendary. I did enjoy the characters though and found the ending quite satisfying, I liked how it tied everything together. I read this one from 17th May-31st May. Here is my review of it:
https://jjbookblog.wordpress.com/2019/06/02/finale-caraval-3-review/
So that's what I read in May, here's what I have coming up for June:
The Gentleman's Guide To Vice and Virtue-Mackenzi Lee
My #RockMyTBR book for this month, I only started it two days ago and I'm already loving it, it's so funny and Monty is a complete ass but for some reason I really love him.
Bedlam (Skulduggery Pleasant #12)-Derek Landy
The latest Skulduggery Pleasant book! I'm going to see Derek Landy again at YALC at the end of next month and I definitely want to have this book done by then, so as soon as I'm done with Gentleman's Guide, I'm going to be moving on to this.
Ever Alice-HJ Ramsey
This is my Netgalley read for the month and will probably be my last Netgalley read for a while since I've cleared all the outstanding books on my shelves and haven't been approved for any new ones yet. It's kind of weird having nothing on my shelf, but I think having a Netgalley break might be quite nice!
You-Caroline Kepnes
I just started Audible again, as I got a discount so I'm finally going to make good on my resolution to read more audiobooks this year. I decided to start with this one as I really enjoyed the show when I watched it on Netflix at the end of last year, and I think it will be a really good one to try on audio.
My reading progress this year is still going really well, I've read 22 books and I'm still way ahead on my Goodreads Challenge. I'm hoping to try and get a lot of reading done this month before my job starts in July and I have less time for it. How did your May reading go? Let me know in the comments!