Hi everyone! I hope everyone's February was great, I swear I always blink and then February is gone, it's only three days shorter than 31 day months, but it feels like it's even shorter than that. For anyone who just recently started to follow me, who haven't seen this feature before, #RockMyTBR is a challenge set up by Sarah K over at The YA Book Traveller in 2016, which I've kind of co-opted for myself over the last couple of years. Anyway, she challenged us to take a list of backlist books that we wanted to read and knock them off our TBRs over the course of a year. My aim is to read one of the 12 books on my list each month, so that by December, I've read them all. February was pretty good, I read three books over the course of that month, and I've even got two books in the bag already for March, so I'm feeling pretty good right now! Anyway, here are the books I read in February:
Alex and Eliza by Melissa De La Cruz:
This was my #RockMyTBR book for February, and the first book of the two books I read pre seeing Hamilton a couple of weeks ago. I read it from 1st-14th February, so it took exactly two weeks to read. I didn't really like this one though, it was incredibly historically inaccurate, and kind of cheesy, and I just didn't enjoy it that much. Here is my review of it:
https://jjbookblog.wordpress.com/2019/02/14/alex-and-eliza-alex-and-eliza-1-review/
Hamilton and Peggy! A Revolutionary Friendship by L.M. Elliott:
This was the second book I read in preparation for going to Hamilton and I have to say I enjoyed it far more. I loved that it focused on Peggy and really allowed me to appreciate just how awesome the younger Schuyler sister was, and it was far more historically accurate than Alex and Eliza whilst also covering some parts of the American Revolution that I had no idea about. Here is my review of it:
https://jjbookblog.wordpress.com/2019/03/01/hamilton-and-peggy-a-revolutionary-friendship/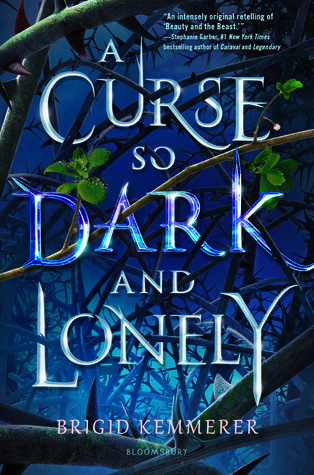 A Curse So Dark and Lonely by Brigid Kemmerer:
This was my Netgalley read of the month, I liked that it was a slightly different take on a Beauty and The Beast retelling and that it featured a lot of diverse characters, including a disabled protagonist, but I found that the story lagged a lot and couldn't really decide what it wanted to be. Here is my review of it:
https://jjbookblog.wordpress.com/2019/03/03/a-curse-so-dark-and-lonely-review-e-arc/
So that's what I read in February, here's what I've got coming up this month (minus the two books I've already finished):
To Kill A Kingdom-Alexandra Christo
My #RockMyTBR book for this month, I've started this one and I'm loving it already, vicious sirens, princes who want to be pirates, everything about this book screams me and I love it!
Descendant of The Crane-Joan He
My Netgalley read for this month, I've only just started it, but I'm already intrigued so I'm hoping that I'll really enjoy this one.
Becoming-Michelle Obama
My second physical book of the month is going to be Michelle Obama's autobiography and I can't wait to read it, I love the Obamas so much, especially Michelle. I've heard really good stuff about it, so I'm hoping I'll enjoy it.
We Are Blood and Thunder-Kesia Lupo
This will be my other Netgalley read of the month, if I get round to it. I'll be honest, I'm not entirely sure what it's about, but I saw a lot of other bloggers getting really excited about it and it sounds good, so fingers crossed I enjoy it!
I'm pretty pleased with my reading progress this year, I've read eight books already, am four books ahead of my 24 book Goodreads Challenge and have already finished two books this month and we're only on the fourth day of March. How did your February reading go? Let me know in the comments!