The End of Year Book Survey is an end of year event created by Jamie over at The Perpetual Page Turner as a way of looking back and hopefully celebrating, our year of reading and blogging. I've been doing it since 2015 and have found it a great way to wrap my year, so I'm doing it again this year. You can find the questions on Jamie's blog here:
https://www.perpetualpageturner.com/2018/11/8th-annual-end-of-year-survey-2017-edition-2.html
2018 Reading Stats:
Number of Books You Read: 35
Number of Re-Reads: 0
Genre You Read The Most From: Fantasy
Best In Books
Best Book You Read In 2018
Tara Sim's Firestarter doesn't come out until the end of January, but I luckily got it off Edelweiss to read in October and it was INCREDIBLE. Emotional, high stakes, creative, with the most adorable m/m romance I think I have ever read, it was everything I wanted in the finale of this trilogy and more and blew pretty much everything else I read this year out of the water.
2. Book You Were Excited About And Thought You Were Going To Love More But Didn't
I think Hero of The Fall was probably my biggest disappointment of the year, I loved Rebel of The Sands so much and enjoyed Traitor To The Throne and it seemed like Hero was going to be a super exciting conclusion but I found it kind of lacklustre and overly long, which was such a shame because the series had so much promise originally.
3. Most surprising (in a good or bad way) book you read?
I would probably say Nadine Brandes Fawkes! I had never heard of it, or her before I read it, requested it on a whim because it sounded really good and I ended up really enjoying it!
4. Book You "Pushed" The Most People To Read and They Did?
I don't know if I have a specific book, but I know I've been flailing about V.E. Schwab everywhere this year, so I guess her books?
5. Best series you started in 2018? Best Sequel of 2018? Best Series Ender of 2018?
Funnily enough, my three favourite books of 2018 all fit in these categories-though not necessarily in the order given!
Best series I started in 2018 was the Legacy of Orisha series, with Children of Blood and Bone. Children of Blood and Bone was so refreshingly new and different (albeit with some familiar tropes) and it was just such a fun, diverse, action packed adventure story and I can't wait to see what happens in the sequel next year.
Best sequel of 2018 was Legendary (funnily enough Caraval was my answer for the first part of this question last year), it was even better than the first book in the series and I loved getting to dive back into the world of Caraval through Tella's eyes this time.
Best series ender of 2018 was without a doubt Firestarter, it was beautifully written, a rollercoaster of emotions and such a damn satisfying conclusion to the Timekeeper trilogy.
6. Favourite new author you discovered in 2018?
AH NO FAIR. I discovered so many amazing new authors this year, it's ridiculously hard to pick one, so I'm going to be a bit of a cheater and list several, whose have books that I'm already ridiculously excited for releasing next year:
-Tomi Adeyemi-Obviously Children of Blood and Bone was a masterpiece and I cannot wait to see how Zelie and Amari's story continues in Children of Virtue and Vengeance next year (funny story, I have listed it as one of my most anticipated reads so often on Instagram, my phone now remembers it!).
-Laura Steven-The Exact Opposite of Okay was so wonderfully hilarious and I'm so excited to see more of Izzy's hijinks in A Girl Called Shameless next year (my phone has also learned this book title because I've talked about it so much already!). She's also amazing on Instagram and her black labrador puppy Obi is so cute!
-Amanda Foody-I really enjoyed both Daughter of The Burning City and Ace of Shades this year and I'm super excited to see what happens next in Enne and Levi's adventures in King of Fools. Also I love her Instagram, her cat Jelly Bean is the cutest thing ever!
-Nadine Brandes-I've already talked about how much I loved Fawkes, and I'm already stoked for her release next year, Romanov, which is a retelling of the Romanovs but with magic. The fact that I know there is someone out there doing fantasy retellings of historical events makes my history nerd, fantasy loving heart very happy.
7. Best book from a genre you don't typically read/was out of your comfort zone?
Well it wasn't really out of my comfort zone, since I have been a long time lover of Jodi Picoult's books, I've been reading them since I was like 13, but considering I don't read a lot of non fantasy adult fiction, A Spark of Light certainly counts as a book from a genre I don't usually read much of, yet of course I loved it, because Jodi Picoult is a master of storytelling.
8. Most action packed/thrilling/unputdownable book of the year?
Probably Firestarter! It did take a little bit to get into but once it got going, man it didn't let you go and I swear, by the final ten chapters I was like, I cannot put this down, I need to know how this ends for my faves!
9. Book You Read In 2018 that you would be most likely to re-read next year?
Probably none! I'm coming to accept that I just don't have time to reread anymore, I don't have much time with Uni, so I kind of have to prioritise potential new favourites over much loved old ones!
10. Favourite Cover of A Book You Read In 2018?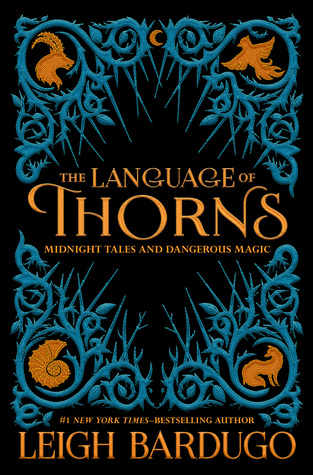 It was so hard to pick a favourite cover for this year, because so many books I've read have had such beautiful covers, but I have to go with this beautiful Bardugo cover, it's so perfect for a fairy tale book, but with that little bit of bite that you would expect from Leigh Bardugo.
11. Most Memorable Character of 2018?
This one is actually quite easy this year, I have to go with Izzy O'Neill from The Exact Opposite of Okay. I have never read a book with a character that reminded me so much of myself before, Izzy surpasses even Hermione on that level, reading about her and her friends was like seeing somewhat of a reflection of my own life, which was so wonderful.
12. Most beautifully written book of 2018?
Without meaning to sound like a broken record, I have to go with Firestarter again for this one. Tara Sim just has such a wonderful way with words, and her writing just seeps into your soul and clings onto it, it's that good.
13. Most Thought Provoking/Life Changing Book of 2018?
I'll have to go with A Spark of Light here. Jodi Picoult's books are always incredibly powerful and thought provoking, and although A Spark of Light more reinforced what I already believed about abortion (I'm pro-choice), it's always good to see a wide range of perspectives and to understand why people think the way they do and ultimately to start a conversation and I will definitely be using Picoult's book as an example of why choice is so vital if ever asked!
14. Book You Can't Believe You Waited Until 2018 To Finally Read?
Vicious! I mean granted, I only discovered VE Schwab in 2016, so I haven't been reading her books for long, but Vicious was so wicked and twisty and just generally amazing that I can't believe it took me this long to get to it.
15. Favourite Passage/Quote From A Book You Read in 2018?
"You see, some people are born with a piece of night inside, and that hollow place can never be filled – not with all the good food or sunshine in the world. That emptiness cannot be banished, and so some days we wake with the feeling of the wind blowing through, and we must simply endure it as the boy did." -The Language of Thorns, Leigh Bardugo
This quote is just beautiful and really resonated with me.
16. Shortest and Longest Book You Read in 2018?
Shortest Book: Night of Cake and Puppets by Laini Taylor-256 pages
Longest Book; Tower of Dawn by Sarah J Maas-672 pages (yup she's back in the top slot!)
17. Book That Shocked You The Most?
Our Dark Duet! That ending completely blew my mind, I had to read it again, to make sure that I'd actually understood what was happening.
18. OTP of The Year
Danny and Colton! I was rooting for the two of them so hard during Firestarter.
19. Favourite Non-Romantic Relationship of The Year
I'm going to go with The Dregs for this one, I know there are romantic relationships between the different members of the group, but overall, they are great, if slightly dysfunctional friends and I love the witty banter between them.
20. Favourite Book You Read In 2018 From An Author You've Read Previously?
Legendary by Stephanie Garber! I loved Caraval, but I thought Legendary was just an incredible step up and I cannot wait to see how she ties up the trilogy in Finale.
21. Best Book You Read In 2018 That You Read Based Solely on A Recommendation From Somebody Else/Peer Pressure/Bookstagram etc:
I read Children of Blood and Bone largely off the recommendation from a bookseller in my local Waterstones and I loved it! Thank you Louise 🙂
22. Newest fictional crush from a book you read in 2018?
I have to go with Dante for this one, we don't really get to know him much in Caraval but he really comes to the fore in Legendary, and it's easy to see why Tella falls for him.
23. Best 2018 debut you read?
Children of Blood and Bone without a doubt! I cannot wait to see where Tomi Adeyemi goes next after her explosive debut.
24. Best worldbuilding/most vivid setting you read this year?
I have to go with Fawkes for this one, the whole colour magic system with the magic being controlled by different coloured masks, all within Stuart era London, was inspired!
25. Book That Put A Smile On Your Face/Was The Most Fun To Read?
The Exact Opposite of Okay wins hands down for this one, definitely the funniest book that I've read all year, but with a very important message.
26. Book That Made You Cry/Or Nearly Cry In 2018?
Rose Under Fire. I felt so strongly for Rose and her friends that when I read the terrible things happening to them in Ravensbruck, especially knowing that these things happened to real people, I couldn't help but cry, which is unusual for me!
27. Hidden Gem of The Year?
By A Charm And A Curse by Jaime Questell, it's kind of like Pinocchio combined with a circus story and it was pretty darn awesome!
28. Book That Crushed Your Soul?
Firestarter. I mean I loved it, but damn it hurt me. Tara Sim, why did you wish to crush my feelings? Why?
29. Most Unique Book You Read In 2018?
I think I'm going to have to go for For A Muse of Fire with this one. Heidi Heilig balanced French Colonialism with Asian cultures so beautifully, and I have to say it was unlike anything I've ever read before, particularly given that it had a main character with a mental illness which is actively talked about, which is annoyingly rare in YA fantasy.
30. Book That Made You The Most Mad?
Sea Witch made me incredibly mad because I was expecting it to be this amazing Ursula retelling and I ended up finding it super boring.
Your Blogging/Bookish Life
New favourite book blog/Bookstagram/Youtube Channel You Discovered in 2018?
I'm going to plug my friend here, and tell you all to visit my friend Hannah's blog, Books, Life and Other Oddities, because she has some great content, and she also has an awesome Bookstagram account under the same name.
2. Favourite post you wrote in 2018?
I didn't get much response to this one, which was a shame because I really loved writing it but I thought I'd share it here because it's something I've been thinking about for a while, I talked about the concept of guilty pleasures and why I think quite frankly, that it's bullshit.
https://jjbookblog.wordpress.com/2018/06/09/jo-talks-books-on-why-i-dont-believe-in-guilty-pleasures/
3. Favourite bookish related photo you took in 2018?
https://www.instagram.com/p/BlQi3ngFrV-/
I quite liked this one of my newly acquired purchases in July, I think they're very pretty books and my shelf looked great. Bonus-I'm reading all of these as part of my #RockMyTBR Challenge in 2019!
4. Best bookish event you participated in (author signings, festivals, virtual events, etc)?
I have to go with YALC again this year, we got to see so many great authors, Hannah brought her friend Hannah (yes they're both called Hannah, it's confusing) along, so there were even more of us this year and I bought some great books.
5. Best moment of blogging/bookish life in 2018?
I reached 1000 followers in October, and I was so thrilled by that, my blog has been going from strength to strength in the last few years, I got the highest number of views ever this year and I reached this milestone following, so I'm feeling incredibly proud and grateful for this little blog right now.
6. Most challenging thing about your blogging/reading life this year?
This probably won't change until after next year when I'm no longer a Uni student (AHHHHHHHH!), but again, balancing blogging/reading with Uni.
7. Most Popular Post This Year On Your Blog (whether it be by comments or views)?
I did this by views last year, so I'm going to go by comments this year, even though I always get a lot more views than I do comments. I wasn't actually expecting this particular post to be my most commented on, I mean I know my most commented posts are always Top Ten Tuesdays, but I honestly couldn't even remember what #148, Books We Could Re-Read Forever was! Still I'm glad you guys liked it.
8. Post You Wished Got A Little More Love?
Aside from the discussion post I mentioned earlier, I would love it if this post got a little bit more love as it was quite a personal one for me:
https://jjbookblog.wordpress.com/2018/10/29/jo-talks-books-on-university-reading-funks/
9. Best bookish discovery this year?
Ooh you know, I don't think I have one!
10. Did you complete any reading challenges or goals you had set for yourself at the beginning of this year?
Yes! You'll have more details of them when I post my End of Year Check In on New Year's Eve.
Looking Ahead
One Book You Didn't Get To Into 2018 But Will Be Your Number One Priority In 2019?
Well I started Kingdom of Ash, my most anticipated release for 2018, but I didn't finish it, so I will definitely be prioritising that!
2. Book You Are Most Anticipating For 2019 (non-debut)?
Has to be Priory of The Orange Tree! I mean I'm not going to lie, the size intimidates me, but I will read anything with dragons in it and Samantha Shannon has yet to let me down, so I'm diving in!
3. 2019 Debut You Are Most Anticipating?
Has to be The Devouring Gray! I've been hearing so much about it, and it sounds so up my street, so I'm looking forward to finally reading it.
4. Series Ending/A Sequel You Are Most Anticipating In 2019?
I'm going to do one for each here, because there are two books that fit this perfectly. Children of Virtue and Vengeance because I can't wait to see what happens next in Zelie and Amari's story and Finale because I can't wait to see how Tella and Scarlett's wraps up.
5. One Thing You Hope To Do/Accomplish In Your Reading/Blogging Life in 2019?
I really want to get my Netgalley ratio up to 80%! I have a pretty high ratio anyway, at 71% now, and I get approved far more than rejected, which is great, but I'd like to reach that all elusive 80% next year!
6. A 2019 release you've already read and recommended to everyone?
Well I've only read Firestarter, but I have recommended it to everyone, so it counts! It's out January 15th!