Hi all! I hope you've all had a good week since my last one of these, I had reading week last week, which is basically my uni's half term break, although it wasn't much of a break, I was doing reading for my next essay for most of it! From now until mid December, the work is pretty much non-stop, and not in the fun Hamilton song way!
Also, BookLoversBlog has officially reached 1000 followers (well slightly over now)! I just wanted to take this opportunity to thank everyone who has supported me over the last four years, it has meant so much to me and there's no way I would still be doing this now without you guys! In that spirit, I have an exciting giveaway going on over on my Twitter account, where you could have the opportunity to win any of the books I've reviewed here over the past four years, so definitely check that out, it's my way of saying thanks to everyone for all your support and celebrating this milestone!
Anyway, since it's Tuesday, I have another Top Ten Tuesday for you, courtesy of Jana at That Artsy Reader Girl. Since Halloween is tomorrow, our theme this week is a Halloween freebie. I have to admit, I was a bit stumped for what to do for this one since I've already done three years worth of Halloween freebies and I'm not the biggest fan of Halloween. So I've decided to do an extension of last week's Villain theme, and borrow The Villains Award Tag from Cait over at Paper Fury! Here is a link to her post if you want to see her answers:
https://paperfury.com/villains-award-tag/
And here are mine:
Villian you absolutely despise and hate
Come on guys, you had to be expecting this one right? If there is one thing that the Harry Potter fandom can unite on (aside from the obvious fact that we all love Harry Potter) it's that Umbridge is THE WORST. And whilst A Very Potter Musical does have a slightly more comical version of Umbridge, the canon version is just….well completely psychopathic.
2. Villain Who Is Entrancing
Ooh entrancing villains? I have to admit, I think Cait hit the nail on the head here. The two villains of the Caraval series, Jacks and Legend are completely entrancing. On the one hand, you know that they are bad guys and that you shouldn't believe a word they say but on the other hand, they are mysterious and sexy and you can't help but being a little captivated by them.
3. Books You'd Like To Read From The Villain's Perspective
I mean honestly I feel like most books would be more interesting if they were from the villains' perspective! One that I read recently which I think would be so much better from the villain's perspective is Sea Witch. It acts as a villain origin story for the main character, who is at the start supposedly the hero, but the actual villain of the book (without wanting to spoil anything) is so much more interesting than Evie and I think the book would have been so much better if it had been from her perspective.
4. Worst Antagonistic YA Parents
Honestly this one is hard because most of the books I read, the main characters parents are usually dead! One that came to mind which I read this year though, is King Saran from Children of Blood and Bone. He is just awful to his children, forcing them to fight and viciously hurt each other, no matter how little they want to.
5. Antihero who is a little bad, a little good
OK THIS IS MY CATEGORY. I have a soft spot for antiheroes, they straddle that line between hero and villain so well and let's face it, plain old good heroes can get a little boring, it's nice to have a hero type character that has slightly less….well morals. Here are some of my favourite antiheroes:
-Lila Bard from A Darker Shade of Magic
-All of the Dregs from Six of Crows
-Artemis Fowl from Artemis Fowl
-Rowan Damisch from Scythe
-Everyone in HIVE
6. Villain Made From Tragic Circumstances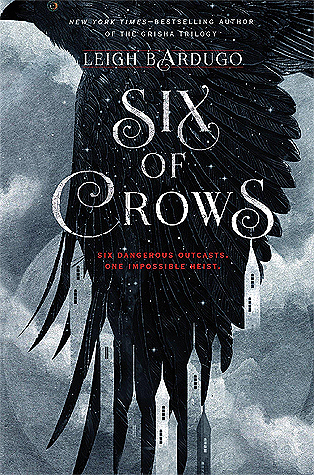 Okay granted, he is more antihero than villain, but Kaz Brekker definitely fits this one. It's kind of hard to talk about without spoiling parts of Six of Crows, but basically Kaz went through some stuff in his childhood and that quite heavily informs his future life of crime.
7. Villain who gets in the hero's way but isn't necessarily pure evil
This one is kind of a tricky one! The book I'm reading at the moment has a character sort of like that, Zavier from the Timekeeper trilogy. He's not necessarily a villain, but he is acting as kind of a roadblock for Danny and Colton at the moment, so I think he fits this category quite well.
8. A Non-Human Villain
Opal Koboi is one of my favourite non-human villains, she is the villain for the latter half of the Artemis Fowl series, and she's just so cunning and devious and incredibly clever, she is more than a match for our genius anti-hero Artemis.
9. Villain Who You Think Is Wicked But They're Intriguing
Nashira from The Bone Season. I mean she's awful, truly awful, but I can't help but be a bit intrigued by her. I hope that we get to find out more about her in the upcoming books in the series!
10. Antagonist who gets a redemption arc
Luke Castellan from Percy Jackson! Sure he gets taken over by an evil Titan and causes some serious trouble, but in the end he was just a confused kid who was neglected by his father and he does try to make things right in the end.
So there we go, the Villain Award Tag! Who are your favourite villains? Do you like anti-heroes or flat out evil villains more? What did you do for the Halloween freebie this week? Let me know in the comments!
Next week's topic is Backlist Books I Want To Read and boy do I have a lot of those! My entire reading life is basically spent catching up on my backlist, so this should be a fun (and not gonna lie probably slightly shame inducing) one to do. I'm hoping to get a Writing Corner post up for you guys tomorrow, but if I don't, then it will definitely be up at the weekend. I will also have a combined September/October Wrap Up post for you guys at some point this week, so there's quite a bit coming up for you guys!