Hi everyone! September is here, and that can only mean one thing: my birthday is next week people, in fact it's exactly one week from today! I'm turning 22 this year, so I will naturally be playing the Taylor Swift song over and over again on my birthday and milking that for all it's worth (sorry in advance friends!). I've arrived back in Scotland today, after a busy last few weeks at home, in preparation for moving in to my flat for my final year of Uni on Sunday, so that's pretty exciting.
August was a relatively decent month for me, reading-wise. With my summer job finishing mid-August, I FINALLY had time to read again and finished three books this month, bringing my final summer total up to 15! I'm very happy with that, since with Uni starting, my time is all going to be sucked away again, so it was nice to get a leg up with my Goodreads Challenge over the summer.
For those of you who aren't familiar with this feature, a quick rundown: this is a reading challenge created by Sarah K at The Book Traveller, which challenges you to cut down your TBRs, I've kind of co-opted it for myself this year, since she wasn't running it officially and I really enjoy it. Like I said, August was a relatively good month for me, I read 3 books (including two bricks!) so I'm pretty proud of myself: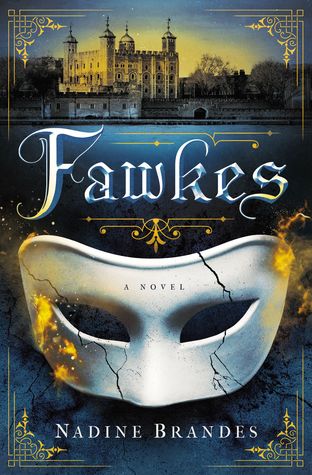 Fawkes by Nadine Brandes:
This was my Netgalley read for the month, although I did actually read a lot of it in July, I just didn't finish it till August. This book was so awesome, it had such a cool magic system involving masks and colours and I loved the way the author integrated the magic with the real history of the Gunpowder Plot. There seriously need to be more fantasies set in the Tudor/Stuart era because they are ripe for magical twists! Apparently her next book is going to be about Anastasia Romanov, so I'm super excited for that one. I read this book from 4th July-11th August (on and off). Here is my review of it:
https://jjbookblog.wordpress.com/2018/08/13/fawkes-review-e-arc/
Days of Blood and Starlight by Laini Taylor:
The sequel to Daughter of Smoke and Bone was my #RockMyTBR book for August. I really enjoyed the first book in this series, but the second one was a bit of a letdown for me. It was way longer than it needed to be, the plot was relatively thin on the ground, it was really depressing and there was an unnecessary attempted rape scene that kind of soured me on the whole thing. I read this book from 27th July-13th August. Here is my review of it:
https://jjbookblog.wordpress.com/2018/08/19/days-of-blood-and-starlight-daughter-of-smoke-and-bone-2-review/
Tower of Dawn by Sarah J Maas:
AH SO I FINALLY READ IT. I was a little bit nervous, because Chaol is not my favourite, but I really enjoyed this one, the world building was brilliant, Chaol's healing journey was beautiful, there was SO much more diversity than in the other books in this series and for once, a SJM romance didn't make me want to gag! Granted it was still about 200 pages too long and quite slow, but still, I really enjoyed it. I read this one from 13th August-3rd September (told you it took a while!). Here is my review of it:
https://jjbookblog.wordpress.com/2018/09/03/tower-of-dawn-throne-of-glass-6/
So that's what I read in August, here's what I have coming up in September. I'm super excited, I have so much amazing stuff coming up for my birthday month:
Vicious-VE Schwab-I just started this book a couple of days ago, but thanks to my super long train journey today, am over 100 pages in. I'm enjoying it, I wouldn't go as far as saying I'm loving it yet, but it's still quite early days, I get the feeling that this one is going to be quite a slow burner!
Sea Witch-Sarah Henning-This is my Netgalley read for this month, kind of hanging over from last month because I just didn't really have time to read much of it with everything I had going on at the end of August. I'm not really sure how I feel about this one yet, it's okay, but I'm not really far enough through it yet to have decided.
The Hate U Give-Angie Thomas-Yes, yes, I know, I'm finally reading this. It's the book of the month for a book club I'm part of on Goodreads and since the movie will be out next month, I figured it was finally time to see what everyone was talking about so much last year (better late than never!).
A Spark of Light-Jodi Picoult-I got approved to read Jodi Picoult's latest on Netgalley and I'm super excited for it, so once I've finished Sea Witch, I will definitely be moving onto this one.
So there we go, that's my September TBR, I doubt I will finish everything, since the first month back at Uni is always a bit manic, but I'm hoping to get at least three done, the fourth would be a bonus. I'm now 3 books ahead of my Goodreads Challenge, so I'm quite happy with that, has given me a nice buffer for being back at Uni and probably not reading as much. How's your reading going so far this year? Let me know in the comments!