Hi everyone! August is upon us (how, what, why, when, I do not understand how time does this to us? January lasts forever and then the rest of the year flies by!). July was a super busy month for me, first with work and then with YALC last weekend, so whilst I somehow acquired ALL the books, I sadly did not read ALL the books, I only read two, the first time this has happened in a summer since I started blogging. But hey, I can't read all the books, all the time, and I definitely shouldn't feel guilty about that *I tell myself, whilst still feeling guilty*.
Anyway, for those of you who are new to my blog and aren't familiar with this feature (welcome!), #RockMyTBR is a challenge originally created by Sarah K at The Book Traveller where she challenges us to cut down our TBRs, I started doing it in 2016, and I've kind of co-opted it for myself this year as I don't think she's officially running the challenge. So like I said, July wasn't a great month for me, reading wise, so here are the two books that I did read this month: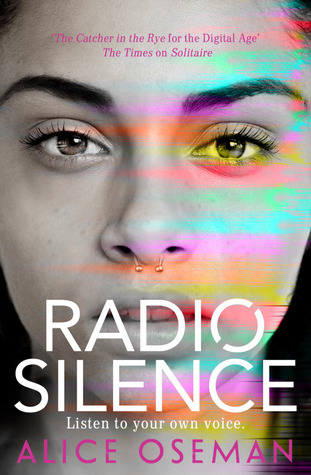 Radio Silence by Alice Oseman:
This was my #RockMyTBR read for the month and I also read it as a YALC prep book, because the author was at YALC. I liked aspects of this book, the focus of friendship, the worries about University and the future and the diversity of the book but I did find it incredibly slow and the plot was quite uneven, there were too many different strands and they didn't really fit together for most of the book and I thought the characters were a bit flat. It was a decent book, I just don't think it was right for me. I read this book from 27th June-9th July. Here is my review of it:
https://jjbookblog.wordpress.com/2018/07/15/radio-silence-review/
Children of Blood and Bone by Tomi Adeyemi:
So if you've read my review of this book which I posted on Friday, it will be no secret to you guys that I LOVED this book. A beautifully creative and wonderfully diverse fantasy world, an intricate and interesting magic system and a generally engaging plot made for wonderful reading, it was just a shame about the lacklustre romance otherwise this totally would have been a five star read for me! I was so sad that the author's signing line was too long at YALC (as this was one of my other YALC prep reads) for me to get this book signed. Here is my review of it:
https://jjbookblog.wordpress.com/2018/08/03/children-of-blood-and-bone-legacy-of-orisha-1-review/
So that's what I read in July, this is what I have coming up this month:
Days of Blood and Starlight-Laini Taylor-I'm already about halfway through this book and kind of unsure about it, there's less focus on Prague this time and more on Eretz and the magical stuff, which is fine, I do like the fantastical aspects of this book, it's just the Karou/Akiva angst is kind of grating on me at the moment. I don't know, we'll see how this one turns out.
Fawkes-Nadine Brandes-This is my Netgalley read from last month (I DNF'ed Spinning Silver and started this instead) and I've been really enjoying it, my only complaint is that I'm so busy with work, I don't have time to read it as quickly as I would like to! I'm about 3/4 of the way through this one, so close to finishing, and I'm really looking forward to seeing how this all winds up.
Undecided 2nd physical book-Okay so basically I don't know when I'm likely to finish DOBAS because of how busy I am at work, so I'm not gonna decided what my second August book is gonna be until I know how much of the month I have left to read it: my options (i.e. books I am not sending back up to Scotland with my mother this week) are Tower of Dawn, Our Dark Duet, Ash & Quill or The Game of Love & Death, so basically, if I finish DOBAS by the end of next week then I'll probably go Tower of Dawn or Our Dark Duet, if it takes longer then I'll be reading Ash & Quill or The Game of Love and Death.
Sea Witch-Sarah Henning-My other Netgalley for this month, which I'll be starting once I've finished Fawkes. I'm really excited for this one, I love villain stories, and I think the Witch from The Little Mermaid is a really interesting one, so I'm excited to see Henning's take on this.
So there we go, that's my August TBR. I probably won't finish all of them, but I would really like to get three if possible! I'm still 3 books ahead of my Goodreads challenge so that's making me very happy! How is your reading going so far this year? Let me know in the comments!
Oh and I know I plugged this on my Twitter, but I just thought I'd share the link again here for any blog followers who don't also follow me on Twitter, I did an interview with BookmarkChronicles for her Summer Spotlight series and it just went live this week, so if you want to know a little more about me and my blog, it would mean a lot to both me and her if you checked it out:
https://bookmarkchronicles.wordpress.com/2018/07/31/summer-spotlight-series-jo/