Hi all! I AM FREE! FINALLY. All my exams are over, the weather is so beautiful today that I've been able to read outside, which is my favourite part of summer and I can now just spend my time reading and writing and blogging and not feeling guilty about it because I'm meant to be doing other things, so yay for that! I generally don't know how May got here, April seemed to go by in a blur of assignments and revision and exams, but it's all finally over and I am determined to enjoy my last super long summer before I have to start worrying about the real world.
Anyway, enough of my blathering on, as it is May, it's time for me to do another #RockMyTBR challenge update, which for anyone who is new to the blog, is a challenge started by Sarah K at The Book Traveller, which I have kind of co-opted for myself this year, to knock books off your TBR. April was a bit sad for me in terms of reading, I only managed two books because I was super busy with assignments and revision, but hopefully now that my summer holidays have started, I will be able to read more! Anyway, here is what I read in April:
Hero At The Fall by Alwyn Hamilton:
This was one of my most anticipated releases of 2018, as it is the final book of the Rebel of The Sands trilogy, but sadly I was disappointed in it. It was poorly paced and not as exciting as I had been hoping for. I read it from 24th March-20th April (yup it took me a long time, it's like 500 pages!). Here is my review of it:
https://jjbookblog.wordpress.com/2018/05/05/hero-at-the-fall-rebel-of-the-sands-3-review/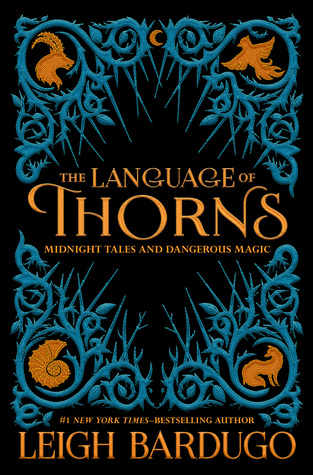 The Language of Thorns by Leigh Bardugo:
This was my #RockMyTBR book for April, I read it from 21st April-1st May, just over a week, short story collections really are perfect for exam season! I really enjoyed this one, I liked the darker take on fairytales, all with their own little Grisha touch and it was nice to be able to read something in the Grishaverse that you didn't really need to have read the other books to understand. Here is my review of it:
https://jjbookblog.wordpress.com/2018/05/05/the-language-of-thorns-review/
So that's my recap of what I read in April, here is everything I have coming up for May (and yes, it will be a lot, I am planning on making the most of my newfound reading time!):
Rose Under Fire-Elizabeth Wein-This is my #RockMyTBR book for May (yes I know I said in my last post that it was for April but I swapped it and The Language of Thorns around as TLOT was shorter). I loved Code Name Verity, and although I'm not loving Rose quite as much as I did Julie, I'm sure I will still end up being punched in the feels.
Daughter of The Burning City-Amanda Foody-I got this one from YALC last year and since one of my 2018 resolutions was to read more of my YALC books, I figured why not read it now. I'm really excited for this one, I've had pretty good luck with circus/carnival themed YA recently, so hopefully this one will continue the streak.
The Burning Maze-Rick Riordan-The newest Trials of Apollo book! I am super excited to have another Riordan to binge in like a week again, it isn't May if I don't have a Rick Riordan book to binge!
Almost Love-Louise O'Neill-One of my current Netgalley reads. I have to admit, I definitely preferred Asking For It to this one, as much as I disliked Emma, she's a teenager, you can kind of forgive her for acting like a spoilt brat. Sarah is a grown woman and still acts like she is 16. I understand why, but that doesn't make her easy to read.
Not If I Save You First-Ally Carter-The other one of my current Netgalley reads. This reads as more MG than YA to me, Carter's protagonist is supposed to be sixteen but she definitely reads younger. I'm not enjoying this quite as much as I did the Heist Society books, but I reckon I might have if I'd read it at 13 rather than 21!
Ace of Shades-Amanda Foody-After months of waiting and doing promo as part of the Shadow Gang, I finally have access to Ace of Shades after being approved on Netgalley! I'm super excited to finally get to visit the City of Sin.
So there we go, that's my super ambitious May TBR. I don't know if I will finish all of them, but I'm optimistic, because I usually do get a lot of reading done in May as I have very little else to do. I'm three books ahead of my Goodreads Challenge, so I'm hoping to put it up by the end of the month! How is your reading going this year? Let me know in the comments!