Hi all! Hope you have all been having a wonderful New Year so far, start as we mean to go on right? 2017 has been a bit of a trash fire for the world in general, but for me it has actually been a pretty good year, personally (for the most part!) and reading wise, and I hope that you all too have managed to find some good in the year, whether it be in your personal life, or through books, or movies or music. This year, I've completed both my Goodreads and #RockMyTBR Challenge, I've been to Greece with my friends, our first international holiday together, I've met even more amazing authors at YALC, I got to see two shows in the theatre that I've been dying to see for years, Mamma Mia and Hairspray, with great friends, I've got to see Jack Whitehall with my friends, I've lived with people that I actually like at University, I've had my friends up to visit, continuing our Christmas traditions, I've competed in my first ever trampolining competition, and a fun Christmas showjumping competition at my local stables, I've discovered new authors, new TV shows, new movies, new music, I've been to Amsterdam for the second time to visit my sister. I've turned 21, I've finished my second year of University and started my third. I've finished my first novel and started work on my second. I've started writing for The National Student. So overall, when I look back at 2017, there are a hell of a lot of good things that happened for me, to balance out all the rubbish that has happened in the world.
Anyway, I've been having a lovely Christmas holiday and still have a couple of weeks before I'm back at Uni, so I fully intended to enjoy the last few weeks before third year descends on me again and I find myself buried under a pile of work. This month went really well in terms of reading, I read three books which brought me to 36 books total for the year, one more than my Goodreads goal. This post is going to be a smidge longer than usual, as I'll be recapping what I read in December and doing a general wrap up for this challenge as a whole, so hopefully you'll stick with me to the end!: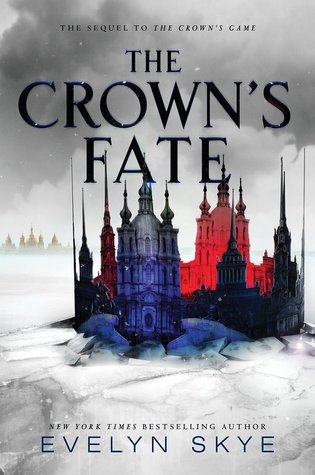 I thought December was the perfect time to read this wintery Russian-set book, and I loved the first book when I read it earlier in the year, so I decided to read it last month. I did enjoy it, but not as much as the first one and not as much as I hoped I would, it was kind of a disappointing end to this duology. I read this one from 1st-16th December. Here is my review of it:
https://jjbookblog.wordpress.com/2017/12/20/the-crowns-fate-the-crowns-game-2/
This was my e-ARC read of the month (from Edelweiss, rather than Netgalley this time), which I read from 2nd-16th December (which is pretty consistent for me with an e-ARC, usually I dip in and out over the course of a few months!). This was an incredible sequel to Timekeeper, the world building, the characters, the writing, the setting, everything was wonderful and I can't wait to share my review of it with you guys very soon (the release date is tomorrow!).
This was my #RockMyTBR read for December  and my last one of the year. I read the first book in 2016 (I wanted to say last year and then I realised that was wrong because 2017 is now last year!) and wasn't so keen, but this one I enjoyed a lot more. I read this from 18th-31st December. Here is my review of it:
https://jjbookblog.wordpress.com/2018/01/01/scarlet-the-lunar-chronicles-2-review/
So there we go, my final update of 2017, or I guess first update of 2018 really! I have already put together my list of titles for the 2018 challenge, which will be the third post under the #RockMyTBR Challenge tab. For the rest of this post, I'm going to recap everything I've read for last year's challenge and look forward to what I'll be reading in the first month of this year's  challenge.
What I Read This Year (Ranked In Star Order):
Six of Crows-Leigh Bardugo-4 stars
It was a tough call between this one and number two as to which was my favourite from the challenge last year, but this one just edges ACOMAF out as my fave. I flew through it in the span of a week, despite the pacing problems early on, the world and the characters were so engaging and I can't wait to read the sequel for this year's challenge!
2. A Court of Mist and Fury-Sarah J Maas-4 stars
I was unsure of the first book in the series, but this second book upped the character and world development considerably and I loved seeing the new characters in the form of Rhys' Inner Circle and all the different new settings as well. Feyre's character development was the definite star of this book, I went from being pretty indifferent towards her in ACOTAR, to totally loving her by the end of ACOMAF.
3. The Girl From Everywhere-Heidi Heilig-3.5 stars
The time travelling element of this may have confused me somewhat, but I still thought it was a really unique, creative story and I really loved the setting, plus it got me out of a bit of a slump after some not so good books in September, so that alone means that it's high up on my 2017 rankings.
4. The Crown's Game-Evelyn Skye-3.5 stars
I loved the magic, the Imperial Russian setting, the characters and the writing so much in this one that I could overlook some of the problems I had with the romance in this book! Plus the FOOOOOD! ALL THE FOOD!
5. Under Rose Tainted Skies-Louise Gornall-3.5 stars
Mental health contemporaries are more often than not winners for me, they tend to be a little more hard hitting than other types and Louise Gornall's debut was no exception. The fact that this book is #ownvoices completely made this book for me, because Norah's voice sounded so authentic, that even though I've never suffered with the same conditions she has, you can imagine what it would be like to.
6. Salt To The Sea-Ruta Sepetys-3.5 stars
Ruta Sepetys has become one of my favourite historical fiction writers over the past few years, and whilst I didn't love this one as much as I loved Between Shades of Grey, it was still a harrowing tale of a lesser known historical tragedy and Ruta Sepetys is definitely still up there when it comes to historical fiction writers.
7. Frozen Charlotte-Alex Bell-3.5 stars
This was an incredibly creepy horror and I'll be honest, if I was iffy about dolls before, I really hate them now! The Isle of Skye setting alongside the incredibly creepy dolls definitely made this one of the creepiest YA horrors that I've ever read.
8. This Savage Song-Victoria Schwab-3.5 stars
It saddens me that this book is as low down on this list as it is, because I love Victoria Schwab, she's one of my favourite authors, but I was coming off my ACOL high when I read This Savage Song and it just didn't live up to the same heights, unfortunately. Still enjoyable, but not the best Schwab I've ever read!
9. Scarlet-Marissa Meyer-3.5 stars
My last read of 2017, Scarlet was a great improvement on it's predecessor, Cinder, but didn't reach the same heights as some of the other books that I've read this year.
10. A Study In Charlotte-Brittany Cavallaro-3 stars
I had really high hopes for this one, as I love Sherlock, but the characters just seemed like complete copycats of Holmes and Watson and didn't really bring anything new and unique to the story. The mystery was okay, but nothing spectacular. I was really disappointed by this one, I was expecting so much more than I got.
11. And I Darken-Kiersten White-3 stars
My biggest disappointment of the year. I was expecting all the stabbiness and the excitement and it just did not deliver. A female version of Vlad the Impaler should be really cool but the idea in this case was much better than the execution.
So that's a recap of everything I read for the #RockMyTBR Challenge last year, this is what I'll be reading in the first month of 2018:
Shadow and Bone-Leigh Bardugo-My first read, and first #RockMyTBR book of 2018. Given how much I loved Six of Crows, I have high hopes for this one, I think I'm going to really enjoy it!
The Fandom-Anna Day-I'm a little nervous about this one because my friend read it and wasn't a fan (and we have very similar reading tastes) but I got the ARC at YALC and since it's released this month, I probably should read it!
Everless-Sara Holland-My first Netgalley read of the year! I've actually already started this one and it's been pretty good so far, so we'll see!
I'm really proud of how much I read this year, 36 books, more than I've read in years gone past and although I had to drop one book from my #RockMyTBR Challenge because I wasn't enjoying it, I've still knocked 11 books off my TBR, which is what this challenge is all about! I'm hoping that 2018 is going to be even better for me in terms of reading than 2017 was.
How did everyone else's December reading go? What are you planning to read for your first book of 2018? Let me know in the comments!