Hi everyone! I'm so sorry this is so late, I've been really busy with essays and uni work and I haven't had time to write reviews, I've only just caught up now! Anyway, it's October, and I'm here with another #RockMyTBR update, if a little later than usual. For anyone who's new here, I do one of these each month where I talk about how tackling my TBR is going. September wasn't bad in terms of reading, I read 3 books and I'm still ahead on my Goodreads Challenge (just), so I'm quite happy with that. Here is what I read in September:
Glass Sword by Victoria Aveyard:
I read this one from 28th August-10th September. I wanted to like this one, I really did, but it was such a chore to get through! I had hoped that this series would get better, but Mare was completely intolerable in this one, the story lagged, the plot was basically non-existent, I wasn't keen on the writing and it just generally wasn't a very fun experience to read. Here is my review of it:
https://jjbookblog.wordpress.com/2017/09/19/glass-sword-red-queen-2-review/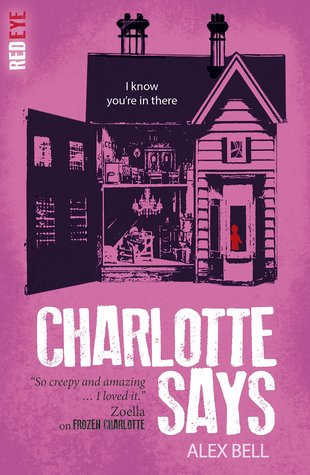 Charlotte Says by Alex Bell:
This was my Netgalley read for September, I read it from 18th August-30th September. This was a very creepy prequel to Frozen Charlotte and it was definitely unsettling to read at times, but I still enjoyed it. Here is my review of it:
https://jjbookblog.wordpress.com/2017/10/13/charlotte-says-review-e-arc/
And I Darken by Kiersten White:
This was my #RockMyTBR book for September and I read it from 12th September-8th October. I really wanted to enjoy this one more than I did, I loved Lada, but the plot and other characters didn't really work for me. It was a very dense read and took me way longer than it should have to get through. Here is my review of it:
https://jjbookblog.wordpress.com/2017/10/15/and-i-darken-the-conquerors-saga-1/
That's what I read in September, this is what I'm planning to read in what's left of this month:
The Girl From Everywhere-Heidi Heilig-This is my #RockMyTBR book for this month, I'm around halfway through it at the moment and I'm really enjoying it.
House of Ash-This is my Netgalley read for this month, I thought it would be a good one for October as it sounds suitably creepy.
Scythe-Neal Shusterman-I've been wanting to read this one for ages but haven't got around to it, so I thought this time of year would be the perfect chance!
Tower of Dawn-Sarah J Maas-I know I said I would read this last month, but I just haven't had time! I will hopefully start this when I'm at home for reading week!
I'm 2 books ahead of my Goodreads challenge right now, which is still good, though I was further ahead before I got back to Uni! How are you guys doing with your reading goals so far this year? What have you been reading lately? Let me know in the comments!