Hi all! I hope you've had a good week so far, I've been up in Scotland since Monday, spent a couple of days with my friend Nicola for her birthday which was nice (she has four dogs so I was basically in heaven!). I know I said I was going to do a post about fan entitlement this week and I totally plan on doing that post at some point, but I did a really cool thing today that I thought you guys would want to hear about.
So I know I don't really talk about my university town all that much and my life at Uni, I totally intended to do blog posts on that when I first started as a fresher two years ago, but for whatever reason, I never got around to writing any. However, today that changes (well sort of!). I go to uni in Stirling, which is about an hour away from Edinburgh by train. Edinburgh is UNESCO's City of Literature, holds a two week long book festival every year and has a multitude of bookshops from second hand to independents to chains, which makes it the perfect place to talk about on this blog.
There are many more bookshops in Edinburgh than just the five that I will be talking about today, so essentially you can substitute different bookshops in your own bookshop tour depending on what your particular interests are. All you have to do is google the shops you want to go to (there are lots of articles online about where the best places to go are), get directions from Google Maps and you're good to go. You could drive or take the bus or tram between your chosen bookshops, but personally I would advise walking as it's really the best way to see the city.
I started my day pretty early, well at least for me, I got up at 8.30 to get ready before heading down to the station. You may not have to do this if you actually stay in Edinburgh when you visit, but Stirling is about an hour away by train, so in order to get the most shopping in, I decided to leave early. The train I got arrived in Edinburgh at around 10.30 and I set off for my first bookshop, Blackwells.
Unfortunately, the directions Google Maps gave me were not the best and I found myself going in circles so I headed for the second bookshop on my list instead, as I knew where that one was, Transreal Fiction on Candlemaker's Row (the street in Edinburgh thought to have inspired Harry Potter). It's a small, independent bookshop which sells Sci-Fi/Fantasy books, so it might not necessarily be for you if you prefer other genres or just aren't a big Sci-Fi/Fantasy fan, but if you are, I would definitely recommend it. It has a wide selection of Sci-Fi/Fantasy books, from newer to older titles and a great selection of Harry Potter stock, for Potterheads like me. I had decided to set myself a six book limit for the day and I was going to five bookshops, so I only bought one book there, Kate Elliott's Court of Fives. Victoria Schwab used to go in here and sign her books when she lived in Edinburgh which I think is awesome. The shop owner is also really nice and gave me directions to Blackwell's which I greatly appreciated.
Once I was done there, armed with directions, I headed over to Blackwell's, which was actually annoyingly easy to find given how much trouble I'd had earlier! Blackwell's is a chain of bookshops, they have shops across the UK, mostly at Universities, as I think they tend to lean on the academic side of bookselling, but the shop at Edinburgh South Bridge (this is important as there is another Blackwell's in Edinburgh!) has a wide range of books, both fiction and non-fiction. The YA section is a pleasing size, not as big as Sauchiehall Waterstones in Glasgow, but it had a decent range of books and I spent a good half hour or so browsing the shop. It's a lovely looking shop and everything is very well laid out and easy to find, which made my shopping experience very pleasurable. They had a 3 for 2 offer going on for some of their books, which naturally I couldn't pass up, so I ended up coming out with 2 more books than I expected. I found Crooked Kingdom (pleasing me greatly as I really enjoyed Six of Crows when I read it earlier this month), Inkheart by Cornelia Funke which is one I've been wanting to read for ages and Hayley Barker's Showstopper. They had signed copies of a book I'd bought at YALC as the author had been at the Edinburgh Book Festival, which was minorly annoying, although I suppose I haven't read the book yet, so it doesn't matter so much! There's also a Cafe Nero there so it's a good place to go around lunchtime as aside from Waterstones, I don't think any of the other bookshops in Edinburgh have cafes. They do author events at Blackwell's as well, Victoria Aveyard is going to be there next week in fact (though I'm going to her event in Glasgow).
Once I was done in Blackwell's, I headed off to the next stop on my bookshop tour, Golden Hare Books. I was a bit concerned I was heading the wrong way, but I managed to find it easily enough. The outside of the shop is beautiful and the inside is just as gorgeous. The YA section however was very small, only one shelf, although it is a small, indie store so that's understandable I guess, it was just a little disappointing I couldn't find anything I wanted amongst its selection. There weren't too many Sci-Fi/Fantasy books either. However if you are a fan of general adult fiction, it is a lovely little indie store with a decent selection of that, so I'd say it's a worth a visit, even if just to soak in the gorgeousness of the shop itself. I didn't actually buy anything here, but I did enjoy my trip.
I headed back up the way I had come after I had been to Golden Hare, back towards Princes Street for the next stop on my bookshop tour, Waterstones. Personally, I don't feel a bookshop tour is complete without Waterstones, I love discovering new indies to go to, but Waterstones is probably responsible for about 3/4 of my bookshelf contents, so it always feels somewhat like home to me. I spent about an hour browsing in Waterstones, it's a pretty big Waterstones and I actually hit most of the floors this time as opposed to just sticking to the first floor which stocks the YA and SFF books. I was a little disappointed that I couldn't find a copy of Strange The Dreamer there as I was hoping to spend my much hoarded points on it, but I ended up with Rachel Hartman's Seraphina and Laura Lam's Pantomime, both of which sound incredible (ironically I put back Laura Bates' Everyday Sexism because I decided I didn't want to pay £9.99 and then ended up paying more than that for two books!).
After that, it was time for my final stop of the day, Edinburgh Bookshop, another indie (3/5 of the bookshops I went to today were indies, okay I only bought from one but still, I may return to the others!), which is relatively far out, so I would recommend not doing what I did and going there first rather than last. Again, my google map directions were not the best, they sent me down a street I didn't need to go down, so I ended up on a quick detour through the bookshops of the Edinburgh Festival. These were decent, although the YA choices were relatively limited and I hadn't actually heard of most of the authors being sold in the adult fiction bookshop. I then made my way back up Princes Street to find a map in order to work out how to get to the Edinburgh Bookshop as my directions were clearly no use! I finally managed to find the right road and began the long trudge to the Edinburgh Bookshop.
It's relatively easy to miss actually, I had walked all the way up Home Street and onto Bruntsfield Place, the street that the shop was on, totally missed it and ended up on Morningside Road! Luckily, I realised my mistake, turned around and found the shop on the way back, but it's quite small, so keep an eye out. I had heard that this was UK Children's Bookshop of the Year 2014 and Scottish Independent Bookshop of the Year so I was expecting great things. Again, I was slightly disappointed. There's quite a lot of children's books, from young readers to more confident older readers, but again the YA books are just one small section of the bookshop and I couldn't find anything that was particularly enticing/anything I didn't have. And the SFF section was just one shelf. However this is just for my personal tastes, they do have a wide range of general fiction, classics, crime, basically everything, it just happened that for me, they didn't have what I wanted this time, I would still definitely recommend going there as it's a very cute little indie bookshop.
And that was it, the end of my little bookshop tour. I could probably have fitted another bookshop in before heading home (although I had an Off-Peak ticket, so if I didn't get the train before 5 then I would have to wait until 6 to go home), but I was super exhausted by this point (definitely wear sturdy shoes to do this and bring a bottle of water!) so I walked the long walk back to the station (with a quick stop in a charity shop to buy this really cute skirt I saw in their window!) and that was the end of my book shopping day, my purse was quite a bit lighter, my bag was a lot fuller, my legs ached and I was very happy with all my purchases!
So I hope this gave you guys a little insight into what the literary scene is like in Edinburgh and maybe some ideas of places you might want to go to if you ever come out Edinburgh way. There are so many different bookshops in Edinburgh, so whatever your tastes, I'm sure you can find one you like, the literary heritage of the city is one of the many reasons I love it so much!
Have you ever been to Edinburgh? Been to any of these bookshops? Would you like to go? Let me know in the comments!
And for your pleasure, I'll include some pictures of the shops I went to today (most from the internet, not taken by me!):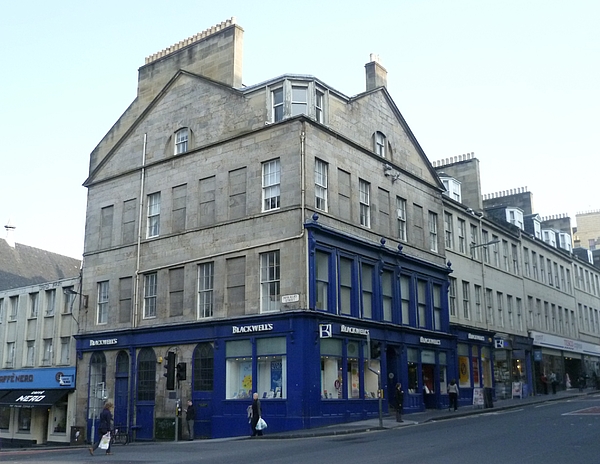 Blackwells Exterior
Blackwells Interior
Transreal Fiction Exterior (I took this one on my first trip in February)
Transreal Fiction interior
Golden Hare Books Exterior (I didn't get it in the photo but there's a little arrow that say Books on it and points into the shop outside, it was so cute!)
Golden Hare Books Interior
Waterstones
Waterstones Interior
Edinburgh Bookshop Exterior
Edinburgh Bookshop Interior
So that's it, my book filled day! I hope you enjoyed my slightly different Jo Talks post this week. I don't think I'll do another August discussion post, so in which case, I'll be moving my fan entitlement post to the beginning of September (unless I get it done in the next week). In the meantime, I'm going to Victoria Aveyard's UK event in Glasgow on Monday so I'll have an event recap of that up pretty soon after.