Hi everyone! I had hoped to get this post to you sooner, as I generally get it up within the first few days of the month, and we are now just over a week into July, but I have had a very busy week! Anyway, you all know the drill by now I'm sure, a new month means another update about how my reading and #RockMyTBR challenge (where I try in vain to cut down my TBR) has been going. June was almost as successful a month for me reading wise as July, I read 4 books this month, which is twice as many as I would usually do. I love summer! So much free time for reading. So here is what I have read, with that extra free time (all of these also count towards my YALC Reading Challenge):
The Archived by Victoria Schwab:
I read this from 30th May-10th June, my fifth book of Victoria Schwab's. I liked this one, but not as much as the Shades of Magic books by the same author, I feel like I prefer Victoria Schwab's adult writing to her YA? It's a really unique concept, I just wasn't sure that the plot and the pacing measured up to the brilliance of the concept. Here is my review of it:
https://jjbookblog.wordpress.com/2017/06/10/the-archived-the-archived-1/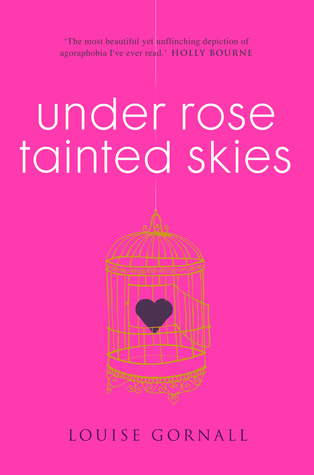 Under Rose Tainted Skies by Louise Gornall:
This was my #RockMyTBR book for June and I really enjoyed it! I sped through it in a week (11th June-18th June), partly because I had several long ferry journeys during my holiday in Greece and partly just because it was a good book! YA contemporaries aren't usually my cup of tea, but Norah's voice was so authentic and raw, I just loved it. Here is my review of it:
https://jjbookblog.wordpress.com/2017/06/24/under-rose-tainted-skies-review/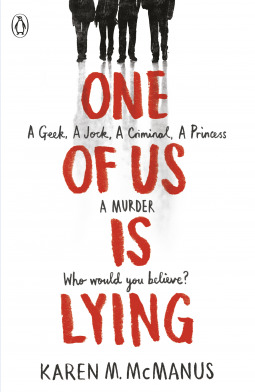 One of Us Is Lying by Karen M. McManus:
This was my Netgalley read for the month. I read it (on and off) from 29th May-30th June. I was really excited for this one, but it wasn't quite the mind blowing mystery that I was expecting. Here is my review of it:
https://jjbookblog.wordpress.com/2017/07/01/one-of-us-is-lying-review-e-arc/
The Bone Season by Samantha Shannon:
I read this one from 18th June-3rd July. I liked this one eventually, but it did take a while to get into and was incredibly confusing at the start and I wasn't keen on the whole master/slave romance element. Still, it was an interesting concept and I think it has potential to get better. Here is my review of it:
https://jjbookblog.wordpress.com/2017/07/05/the-bone-season-the-bone-season-1-review/
That's what I read in June, this is what I have coming up in July:
Frozen Charlotte-This is my #RockMyTBR for this month, though I'm actually nearly finished, so I'll probably have a review of it up in the next few days! I wouldn't say this is the greatest book I've ever read, but it is an engaging horror story. I now find dolls even more creepy than I did after watching Pretty Little Liars, and that's saying something…….
The Mime Order-I bought this one because I had a doctor's appointment that I knew I'd be waiting around for and totally forgot to bring a second book, even though I only had one chapter left of The Bone Season (real #bookwormproblem moment), I had to stop at Waterstones beforehand in order to make sure I had something to read and got this (it's a good job I did as I was waiting a good two hours!). I abandoned it to read Frozen Charlotte as that was my challenge book for the month, but now I'm almost done with that, I'll be getting back to it.
Daughter of Smoke and Bone-I was meant to be reading this for my YALC challenge book this month but ended up reading The Bone Season instead, so I've just switched them over!
Final Girls-My Netgalley read for this month. I haven't got far through it yet as I've been having problems with my Netgalley reading program on my laptop and have had to use my mum's IPad as and when it's been free, but I'm hoping to be able to finish it this month.
I'm back to being four books ahead of my Goodreads challenge, so hopefully I'll be able to keep that up at least for the rest of the summer! How are you guys doing with your reading goals so far this year? What have you been reading lately? Let me know in the comments!