Hi everyone! I can't believe it's the beginning of June already, I leave for Greece in just over a week and a half, which is crazy, I've been planning this trip for months, it's strange to think that it's nearly here. As always, the start of a new month means another update about how my reading, and my #RockMyTBR (the challenge where I hopefully cut down books off my TBR) challenge is going. May has been an incredibly successful month for me reading wise, with my exams finishing so early in the month, I had a lot of free time on my hands, so I managed to read 5 books! Here is what I read:
Countless by Karen Gregory:
This was my Netgalley read for this month. I read it (on and off) from 14th April-13th May. It was an okay read, but I don't think it was really my cup of tea. If you like contemporary YA that deals with mental health though, I would definitely recommend it, as it deals with a hard topic very well. Here is my review of it:
https://jjbookblog.wordpress.com/2017/05/15/countless-review-e-arc/
A Court of Mist and Fury by Sarah J Maas:
This was my #RockMyTBR read for this month. I read it from 30th April-14th May. I really enjoyed this one, far more than I did the first book in the series, it was still pretty slow going, but I loved the new characters, I liked Feyre a lot more than I did in the first book, and I liked getting to see new villains and new settings. Here is my review of it:
https://jjbookblog.wordpress.com/2017/05/15/a-court-of-mist-and-fury-a-court-of-thorns-and-roses-2-review/
The Dark Prophecy (Trials of Apollo #2) by Rick Riordan:
I started this one on 14th May and finished it on the 21st. I didn't think this one was as good as the first book in the series, but it was still a fun, humour filled adventure with the return of one of my favourite characters from the Heroes of Olympus series, Leo. It definitely set up for some exciting adventures to happen in the third book! Here is my review of it:
https://jjbookblog.wordpress.com/2017/05/22/the-dark-prophecy-the-trials-of-apollo-2/
The Perks of Being A Wallflower by Stephen Chbosky:
This was a relatively short book, so I read it over the space of two days from 22nd May to the 24th. I don't know if I would have enjoyed it more if I hadn't seen the movie first, but I think I did enjoy the movie more. I liked the book, but the format didn't entirely work for me, I don't think epistolary novels are really my kind of thing. I didn't write a review of it, as it was such a short book.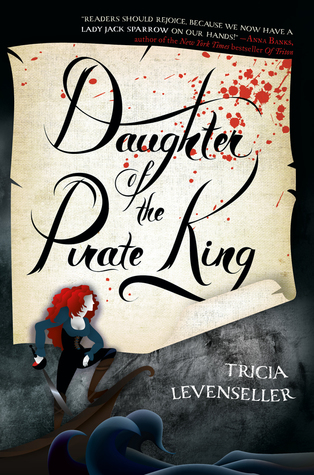 Daughter of The Pirate King by Tricia Levenseller:
I started this one on 25th May and finished it on 29th. It was a super fun piratey romp, and whilst I thought the plot was a little slower moving than I would have liked, I loved the main character and her dynamic with her love interest, as well as the sharp wit and humour that run through the book. Here is my review of it:
https://jjbookblog.wordpress.com/2017/05/31/daughter-of-the-pirate-king-daughter-of-the-pirate-king-1-review/
I also attempted to read Renee Ahdieh's new book, Flame In The Mist, but sadly I had to DNF it, as I just wasn't getting into it.
That's what I read in May, this is what I have coming up in June:
The Archived-Victoria Schwab
This is my current read, I'm not very far through it yet, but the concept is really interesting and I'm intrigued to see where the story goes.
Under Rose Tainted Skies-Louise Gornall
This will be my #RockMyTBR read for June. I've heard really good things about this one and I know that it's #ownvoices as Louise Gornall herself suffers from the same condition as her main character, so I have high hopes!
One of Us Is Lying-Karen McManus
I just started this as my Netgalley read for this month, I'm intrigued at the mystery so far but not entirely addicted yet. I may have to get myself a physical copy if I enjoy it when I'm done, because I've seen that the UK edition has stained pages (and I love stained pages)!
Daughter of Smoke and Bone-Laini Taylor
My friend loves this book and since Laini Taylor is going to be at YALC this year and I'm doing a reading challenge for it, I figure now is the best time to finally read this book!
I'm three books ahead of my Goodreads challenge at the moment (it was four but then I put the number up), so I'm really happy about that! How are you guys doing with your reading goals so far this year? Let me know in the comments!