The End of Year Book Survey is a survey created by Jamie over at the Perpetual Page Turner as a way of looking back over a year of (hopefully) great reading and celebrating our achievements! I did it last year and it was so much fun that I decided to do it again this year, though I can't believe the time has already come for me to do this again!
2016 Reading Stats:
Number of Books You Read: 33
Number of Re-Reads: 1 (Noughts and Crosses)
Genre You Read The Most From: Fantasy (as always!)
Best In Books
1. Best Book You Read In 2016?:
Ooh hard one! I've read so many great ones, it's not possible to narrow it down to just one! Rebel of The Sands, The Raven King, A Darker Shade of Magic & The Sword of Summer all got five stars from me this year, I don't know what I'd say my absolute favourite out of the four of them were, they were all amazing!
2. Book You Were Excited About and Thought You Were Going To Love More But Didn't?:
I'd have to say Graceling for this one. From the back it sounded like exactly what I'd like, fantasy book with a strong heroine and the graces sounded really interesting, but when I actually read it, the writing style was strange, it was badly explained, I didn't like the extreme version of feminism that the author seemed to be pushing, I thought that was incredibly problematic and it was generally quite slow. I just thought it was going to be so much better than it actually was.
3. Most Surprising (in a good or bad way) book you read in 2016?:
I think 13 Minutes by Sarah Pinborough, not just because some of the events that happened in the book were surprising, but also because it was a real surprise for me how much I liked it. I picked it off Netgalley on a whim and I wasn't expecting to enjoy it anywhere near as much as I did.
4. Book you "Pushed" most people to read in 2016 and they did?
Well I don't know if people have or haven't read it but the book I've been pushing most in 2016 has definitely been Rebel of The Sands! It was such a good book.
5. Best Series You Started In 2016? Best Sequel? Best Series Ender of 2016?
Best series I started in 2016 has to be the Shades of Magic trilogy (I would have gone with Rebel of The Sands, but there's only one book in that series out so far and I wanted to go with something that had more than one!), I just loved everything about it, the world, the characters, the magic, everything. I can't wait for A Conjuring of Light to come out in February!
Best sequel I've read this year was probably Empire of Storms, it was so good!
Best Series Ender of 2016 has to be The Raven King. I haven't read many series enders this year actually, but this one was definitely the best. After the long, long wait for the final Raven Cycle book, I am so glad it was everything I wanted it to be and more.
6. Favourite new author you discovered in 2016?
Victoria Schwab! I cannot wait to read more of her books next year.
7. Best Book From A Genre You Don't Typically Read/Was Out of Your Comfort Zone?
I would have to say Jodi Picoult's new book, Small Great Things, because although I do love Jodi Picoult as an author, I don't read much adult fiction and the topic of this book, racism is not something I usually read about either, so it was definitely out of my comfort zone but I really, really loved it!
8. Most action packed/thrilling/unputdownable book of the year?
Demon Road by Derek Landy is probably the book that I read this year that fits this bill the most, the action was fast and furious, the demons were awesome, the characters were great, so I flew through this book in my free time after my exams finished in May, reading as much as ten or twenty chapters a day sometimes!
9. Book You Read In 2016 that you are most likely to reread next year?
Probably none. I do love rereading, but I never have the chance to do it anymore what with all of the new books I have to read. If I get the time, then I will definitely try and squeeze in more rereads next year, but I doubt it's going to be possible.
10. Favourite Cover of a Book You Read in 2016?
This is actually really hard because I've read a lot of books with beautiful covers this year, but I think I have to go with this one: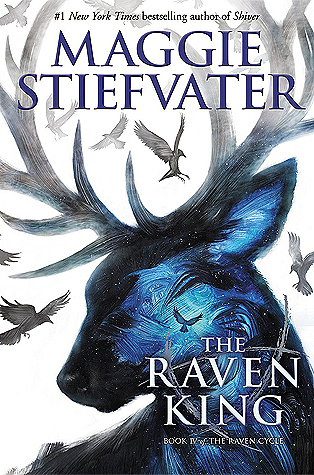 I know I chose a Maggie Stiefvater cover last year too, but she has the most incredible designs for her book covers. Whoever designs them deserves an award!
11. Most memorable character of 2016?
This is really hard because I've read about a lot of great characters this year, both new ones and old friends, but I have to go with a new character who I was introduced to this year and choose Lila Bard. This cross-dressing pirate swaggered into my life back in July and I instantly fell in love with her badass attitude. She was reckless and cheeky and sassy (oh the SASS!) and funny and brave, and just all the things I want in a female character wrapped up in one!
12. Most beautifully written book you read in 2016?
This is a hard one, because I don't necessarily go for "beauty" in writing, I can find so called "beautiful writing" kind of saccharine, but I reckon I'd probably go for Empire of Storms. Sarah J Maas' writing is just gorgeous!
13. Most Thought Provoking/Life Changing Book 0f 2016?
I'd definitely say Small Great Things. Jodi Picoult's new book is incredibly thought provoking and it's definitely changed the way that I think about race, I think it's made me more aware of my privilege as a white woman and just generally think more about race and racism, as it's something I've always been aware of but this book brought up issues that I'd never really thought of before and they're definitely things I will think about more now.
14. Book You Can't Believe You Waited Until 2016 To Read?
Code Name Verity! If I had known how good it was, I would never have waited so long to read it.
15. Favourite Passage/Quote from a book you read in 2016?
"I'm not going to die," she said. "Not until I've seen it"
"Seen what?"
Her smile widened. "Everything". -A Darker Shade of Magic, VE Schwab
I love this quote, not only because it is so Lila Bard, but also because it so aptly descirbes me. I would love to travel around the world, see everything that I possibly can, and I don't want to die until that happens!
16. Shortest and Longest Book you read in 2016?:
Shortest: No Virgin by Anne Cassidy-192 pages
Longest: Empire of Storms by Sarah J Maas-693 pages (SJM has been the author of my longest book read two years running now!)
17. Book That Shocked You The Most?
Probably Empire of Storms! I was not expecting that ending!
18. OTP of the year:
Ooh hard one! I think I'm going to go for Pynch (Ronan and Adam) from the Raven Cycle though. They're finally canon guys!
19.Favourite Non-Romantic Relationship of the Year?
The Gangsey! There might be romantic relationships within the gang, but as a collective I think these guys still count. Ronan, Adam, Gansey, Blue and Noah are one of my favourite friendship groups in YA fiction ever!
20. Favourite Book you read in 2016 from an author you read previously?
I'd have to say The Raven King. Maggie Stiefvater is one of my favourite authors and her final book in the Raven Cycle series was just a masterpiece!
21. Best Book You Read In 2016 that you read based solely off a recommendation from somebody else/peer pressure?
I read the first book in The Lunar Chronicles, Cinder, because everyone in the blogging world was going on and on about it but I didn't really like that, so I guess that doesn't count! I think I'll go with A Darker Shade of Magic, because a large part of my reading it was because of the fact that everyone in the blogging world seemed to love it and I loved it too!
22. Newest fictional crush from a book you read in 2016?:
Jin from Rebel of The Sands!
23. Best 2016 debut you read?
Rebel of The Sands! (Though Timekeeper comes a very close second!).
24. Best world building/most vivid setting you read this year?
This is a toss up between Rebel of The Sands and Timekeeper again, but I think I'll go for Rebel of The Sands, just because the desert setting is so vivid!
25. Book That Put A Smile On Your Face/Was The Most Fun To Read?
The Hidden Oracle! I loved being back in Percy Jackson's world and it was just so funny, I couldn't stop smiling/laughing throughout reading it. Rick Riordan's books are always good for putting a smile on your face!
26. Book That Made You Cry/Nearly Cry in 2016?
Empire of Storms. My feels were completely crushed!
27. Hidden Gem of The Year?
13 Minutes! I don't hear this one talked about very much and it was so good!
28. Book That Crushed Your Soul?
Empire of Storms. The end very nearly killed me.
29. Most unique book you read in 2016?
The Night Circus. Although I may not have loved it as much as my friend and secret sister, I cannot deny it's one of the most unique books I've ever read, not just in 2016.
30. Book That Made You The Most Mad (Doesn't necessarily mean you didn't like it)?:
Asking For It. I liked the book, but it made me so seething mad!
Your Blogging/Bookish Life
Favourite new book blog you've discovered this year?
I don't know if I discovered her blog this year or last year, but I've definitely fallen in love with Cait's blog Paper Fury this year, so I'll go with that!
2. Favourite Review You Wrote In 2016?
Ooh that's a hard one, I've written so many reviews this year! Rebel of The Sands was probably my favourite one to write simply because it was my first five star read of 2016 and it's always nice to write five star reviews, especially the first one in a year, because it's basically just an excuse to shamelessly fangirl! You can check it out here:
https://jjbookblog.wordpress.com/2016/03/03/rebel-of-the-sands-rebel-of-the-sands-trilogy-1/
3. Best discussion/non review post you wrote in 2016
I started doing discussion posts for the first time in 2016 and I'm really proud of what I've done with them this year, I hope I've written some thought provoking discussions for you all. I think my absolute favourite of the ones I've written this year was the one I wrote about whether parents should censor their children's reading, as I thought it was an interesting topic and I liked the discussion that it started on the blog, so I think out of all the discussion posts I've written this year, that's the one I'm most proud of. You can check it out here:
https://jjbookblog.wordpress.com/2016/06/27/jo-talks-books-on-whether-parents-should-censor-childrens-reading/
4. Best event that you participated in (author signings, festivals, virtual events, memes etc)?
This is so hard this year because I've been to a lot of great events and been really lucky with how much I've been able to do this year, but I think I'd have to choose YALC again this year. It was so much fun, I got so many books and met so many authors and I cannot wait until I get to go back next year!
5. Best moment of bookish/blogging life of 2016?
Getting to meet Sarah J Maas in October! I will never forget that. Definitely a bookish bucket list item ticked off!
6. Most popular post on your blog this year (whether by comments or views)?
Since I did it by views last year, I'll go by comments this year and the most commented on post on my blog in 2016 was my first Top Ten Tuesday of the entire year, where I talked about what my bookish resolutions for the year were. You guys will be finding out very soon how I did on those!
7. Posts you wished got a little more love?
My review posts! It takes me a long time to write reviews so it really means a lot to me when people take the time to comment on them.
8. Best bookish discovery?
This year? Has to be Etsy! All the bookish gifts on there are just wonderful.
9. Did you complete any reading challenges or goals that you set for yourself at the beginning of this year?
Yes! I completed the #RockMyTBR Challenge, which I will also be taking part in during 2017 and I completed my Goodreads Challenge for the first time! As for my other goals, you can see how I did on those when I post my End of Year Check In very soon.
Looking Ahead
One Book You Didn't Get To In 2016 But Will Be Your Number One Priority in 2017?
A Court of Mist and Fury! I'm kind of nervous for it because I wasn't the biggest fan of the first book and I've heard that the sex gets a lot worse in this one, but my friend loves it a lot and everyone else seems to think it's really good, so it's definitely high on the list of books that I need to read in 2016.
2. Book You Are Most Anticipating for 2017 (non-debut)?
I can't say anything but Throne of Glass #6. It's untitled, it has no cover, and no extended plot yet, but I need to know how this series is going to end!
3. 2017 Debut You Are Most Anticipating?
Caraval definitely! I have the ARC, I just haven't started reading it yet. I will definitely have to get moving on that soon!
4. Series Ending/Sequel You Are Most Anticipating in 2017?
I would say TOG #6 for this again, but I have another series ender that I'm really looking forward to and that's A Conjuring of Light. After reading A Gathering of Shadows earlier this year, I need A Conjuring of Light in my life! Under two months to go!
5. One Thing You Hope To Accomplish Or Do In Your Reading/Blogging Life In 2017?
I don't actually know? I honestly just want to be as happy with my reading and blogging in 2017 as I have been in 2016, that's all. No specific goals, I just want to keep enjoying my reading and my blogging.
6. A 2017 release that you've already read and recommended to everyone?
None? Honestly though I've started getting more ARCs this year because of being on Netgalley, I still haven't got many 2017 ones. The only one I have is Caraval and I haven't read it yet!
How was your 2016 reading year? What are you looking forward to reading in 2017? Let me know in the comments!